Written by H, Posted in Shorts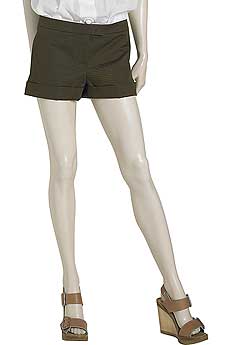 Not unlike Mischa Barton, many fashion-forward females have recently begun the somewhat daunting task of removing leggings and tights to reveal the — gasp! — bare leg. With the mecury stuck around 40 degrees, I too first raised my eyebrows in skepticism. But, the brutal truth is that summer is coming, and, like or not, you can't wear tights in 90 degree heat without looking like Mary-Kate Olsen you have a problem.
These cotton twill mini shorts by Chloé boast turn up cuffs and hip pockets, with a slit pocket on the back — all assets when trying to minimize le tush. Another bonus? A moderately thin waist band, perfect for skinny belts and, well, skinny-looking hips-middle-waist.
To perfect this preppy look from the Spring/Summer 07 catwalks, pair with wedge heels or some strappy flats.
Buy these shorts now for $480 at Net-A-Porter.com.