Written by H, Posted in Fashion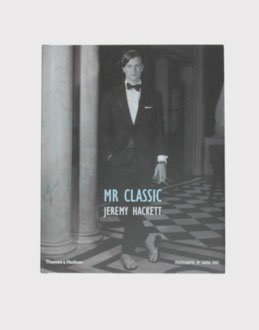 To be blunt, there are few men I know — who aren't gay — who would take this book and actually use it as a style dictionary; there are many men I know who need to do just that.
Mr Classic, which also could be titled How A Woman Wants Her Man to Dress, is the pictorial authority on English style for guys. Hackett explores relevant issues, like why the men of today's generation still dress like boys with little or no thought put into their wardrobe, and more practical topics, like how long socks and suit jackets should really be.
And while Hackett's direction for men on the 'how-to's' of getting dressed is compelling, I found myself more captivated by his inspiring collection of photographs and his detailed descriptions of polo matches and picnics.
Featuring 136 illustrations and endless necessitous information, Mr Classic is both a classic read and guide for guys on how to dress to impress –
Or at least on how to dress different than the male models in an Abercrombie catalogue.
Mr Classic, designed by Jeremy Hackett, $60, Yoox.com