Every Man Essentials: Classic White Shirt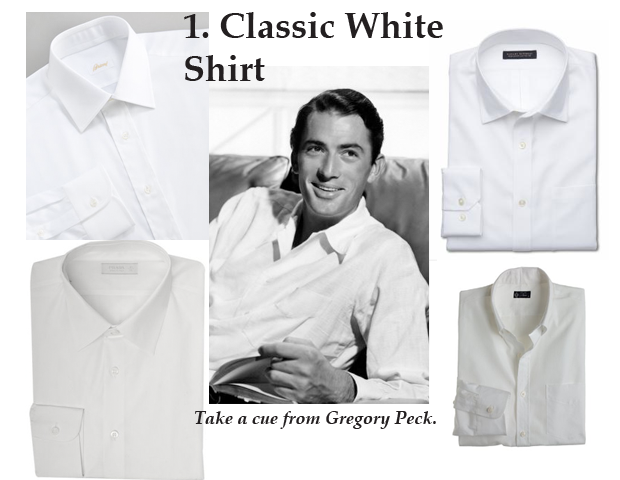 The first wardrobe essential for the Every Man? Easily the classic white dress shirt. Check your closets, men. Anything with a yellowed collar, stained armpits, or worn fibres needs to be disposed of… yesterday. Whether or not you've got money to burn, you need at least two white dress shirts within reach when you go to your wardrobe. Get inspired by timeless style icon Gregory Peck and wear your white shirt relaxed — skinny and slim styles are too trendy.
Let's take a look at some of my favourite choices for men's white shirts, priced high to low:
1. Brioni Barrel-Cuff Dress Shirt ($425, Neiman Marcus): From the mother-of-pearl buttons to the made in Italy quality, this Bironi barrel-cuff dress shirt is divine. Tailored immaculately, this dress shirt is made for the perfectly polished man. Comfortable, crisp cotton with a point collar, this is a stylish shirt. Wearing Brioni makes a serious statement in a subtle way. It's got that je ne sais quoi, if you will.
2. Prada White Pointed Collar Dress Shirt (reg $310, sale $279, Bluefly): In typical Prada style, this white pointed collar dress shirt is a must-have for any modern man. More square in shape than the other white shirts you see featured here, this cotton dress shirt by Prada has single-button cuffs and a pointed collar.
3. Banana Republic Classic Fit, Non-Iron Shirt ($79.50, Banana Republic): More moderately priced than the previous two examples, this Banana Republic classic fit white dress shirt is basic with a twist. One thing I think you boys will love is the 'non-iron' factor. Cotton fabric is formulated to be wrinkle-free, and for any man who's low maintenance — which is the majority of you, non? — this is a necessity. The buttons of this BR shirt are cross-stitched for extra strength.
4. J.Crew Button-Down, Regular-Fit Dress Shirt ($65, J.Crew): Made with extra-fine 120s two-ply cotton, this J.Crew men's dress shirt is smooth and comfortable. The regular, relaxed fit is timeless; buy several of these babies and you'll still be wearing them in a few years time. The collar is button-down, and it contains other bespoke-inspired details as well.
banana republic Classic fit non-iron shirt brioni Barrel-Cuff Dress Shirt j.crew Button-down regular-fit dress shirt in white men's white shirt prada white pointed collar dress shirt