Hope Hearts: Christmas Gifts for Him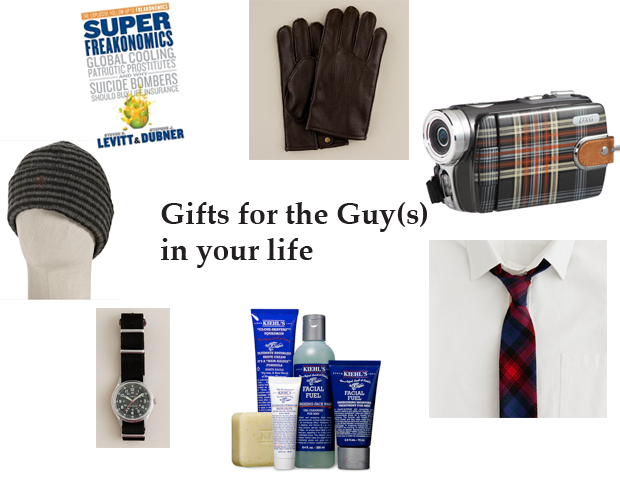 Father, son, brother, uncle, boyfriend, husband, —
You're surrounded by a lot of testosterone, —
So why not gift the guys on your Christmas list with a gift as unique as each of them? Christmas shopping for men is one of my favourite yearly traditions. Maybe because men are traditionally less picky than women, or maybe because men are not all expert shoppers in real life — there's just something about Christmas shopping for a guy that is less stressful than Christmas shopping for a girl.
Check these fun and unique gift ideas. There's something here that will appeal to every man on your list.
1. Cashmere-lined Leather Button Gloves ($88, J.Crew): Like your guy, these J.Crew cashmere-lined leather gloves are tough on the outside and soft on the inside. All rich subtle leather, finished off with a button snap, these winter gloves offer warmth and functionality.
2. Kensington 720p HD Camcorder in Black Plaid ($149.99, DXG): Shopping for the geek on your gift list, but not sure what to buy him? Check DXG's Kensington 720p HD camcorder. One part style, one part HD technology, this hand-held has a fashionable black plaid pattern that stands out almost as much as its real 720p HD video and 8MP image resolution. Top it off with a 3-inch rotating LCD screen, and you've got a unique and luxe gift he'll love. And did I mention the fab quilted carry case it comes with?
3. MacLachlan Tartan Tie ($69.50, J.Crew): Whether or not his last name's MacLachlan, and whether or not he's Scottish, every guy needs a classic plaid tie in his closet. This bright highland tartan wool tie measures 2 inches at its widest point, and would wear well with any of your guy's Every Man essentials.
4. Kiehl's Ultimate Man Collection ($50, Bergdorf Goodman): Movember might be over, but that doesn't necessarily mean your man's moustache has gone anywhere. For the guy who likes to be clean shaven, and for the guy who likes a little scruff — whatever his facial fancy, every man needs to do a little manscaping to keep his face in order. Kiehl's Ultimate Man Collection includes all the essentials, like facial fuel energizing face wash, the ultimate brushless shave cream, deluxe scrub soap, ultimate strength hand salve, and lip balm.
5. Timex® Military Watch ($150, J.Crew): Forget Rolex, real men wear Timex®. [Not to say I don't appreciate a man with fine taste in watches.] Available exclusively at J.Crew, Timex's 1940s-style military watch is out of the archives and ready for your guy's wrist.
6. Original Penguin Grey Wool Rutherford Hat ($30, Bluefly): Another vintage-inspired design, gift your guy an Original Penguin convertible hat. The wool blend will keep his head warm, and the cool pattern will keep his look stylish. Win-win, if you ask me.
7. Superfreakonomics, by Steven D. Levitt and Stephen J. Dubner (about $24, Amazon.ca
): From the men behind the NY Times best-seller Freakonomics comes Superfreakonomics. This is a fantastic gift even for guys on your list who don't enjoy reading. The culture-challenging insights and observations of this follow-up will appeal to even the most anti-bookworm. Totally provocative, and sometimes questionable, get ready for another book that will challenge society and the way you look at the world.