Runway, Real Way: Rolled Cuff Boyfriend Jeans
Written by H, Posted in Runway, Real Way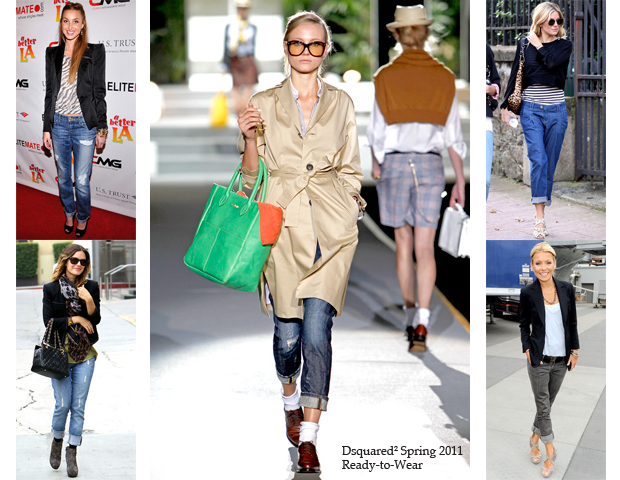 Over the past few seasons, boyfriend jeans have been a staple on almost every celebrity out there, and certainly they've been a go-to in the Every Girl's closet. From Sarah Jessica Parker to Victoria Beckham, relaxed jeans have definitely seen a renewal. And why not? They're a refreshing alternative to painted on skinny jeans and stovepipes, and relaxed jeans certainly provide their own element of chic. Whilst there are several ways to style the boyfriend jean, I'm loving how stars like Kelly Ripa, Sienna Miller, Whitney Port, and Rachel Bilson rock the trend: With rolled cuffs.
More roughed up than refined, you can work relaxed jeans with rolled cuffs into your wardrobe in a variety of ways. Personally, I found instant inspiration in the quirky-chic Dsquared2 Spring 2011 ready-to-wear show. A geek-chic example of how to try the trend, you can pair your rolled up boyfriend jeans with a button down shirt, cinched trench, knit socks, and your favourite oxfords. Add a colourful tote and you'll be set.
Taking coordination cues from the designer runways is always fun, however sometimes channeling the style of your favourite celebrity makes for an easier runway to real life transition. The fabulous foursome featured today find common ground by pairing their rolled boyfriend jeans with tailored blazers and loose-fitting tees. Each star opted for a sleek pair of shoes — sky-high sandals or booties, depending which coast they come from — and some personalized accessories. Sienna Miller was spotted with an animal-print bag, and Rachel Bilson layered on some wild print scarves. Looking for something less busy? Emulate Kelly Ripa and complement your low-waisted pants with a belt, or follow Whitney Port's lead and wear a few bold bracelets.