TOYWATCH Clear Acrylic Watch
Written by H, Posted in Jewelry / Timepieces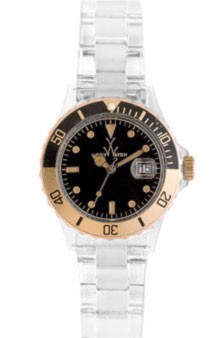 So Oprah features her 2007 Favourite Things List on-air today and suddenly stores everywhere are featuring TOYWATCH watches as their hottest item; is there any doubt that these time pieces will be best-sellers, if for no other reason than O's PR plug?
After looking through the entire TOYWATCH watch collection at Nordstrom's online boutique, I've chosen this clear acrylic bracelet band as my favourite (though I think I'll stick with my classic Skagen for now….)
I love the contrast of the clear band with the two-tone watch face. It's eye-catching, it's elegant, and –
It's inexpensively priced at $175.
Do you girls love the the TOYWATCH collection, or do you think it's just another trend set by Oprah?