Proenza Schouler Wideleg Menswear Pant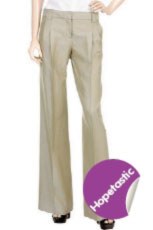 Menswear is really hard to wear correctly, especially if you're a woman.
Basic logic, right?
You'd be surprised how many women I see who think themselves super-stylish, wandering around in too-baggy, menswear-inspired trousers. Seriously, runway to real life is an art.
Enter Jack McCollough and Lazaro Hernandez. The boys behind Proenza Schouler know how to tailor menswear to a woman's body.
That's why I love these Proenza Schouler trousers. Check out how they're fitted in the waist, flat in the front (even though they're pleated), and tucked in the back (to accentuate curves).
Proenza Schouler pleated menswear pants, $650, Net-A-Porter.com