Banana Republic Cotton/Silk Crewnecks
Written by H, Posted in Shirts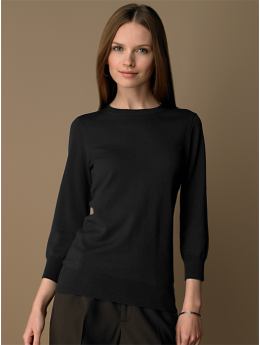 Whatever the reason, second-skin blend cotton/silk/wool wears just as well as cashmere, while maintaining an similar look.
Choosing to wear it in a crewneck style, and in a classic hue, I'm taken back to the days when paparazi were following Audrey Hepburn's every fashionable move — from Los Angeles to Lisbon.
For a similar — and affordable — look, check out this high-quality sweater from Banana Republic, with 3/4-length sleeves and a ribbed trim.
Crewneck Sweater, $58, BananaRepublic.com