Dolce & Gabbana Leopard Print Blouse
Written by H, Posted in Shirts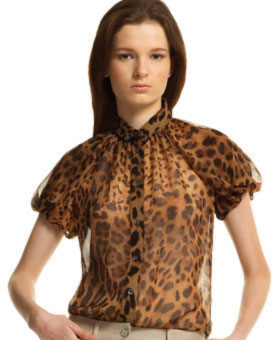 100% silk in a playful leopard print, this Dolce & Gabbana blouse is beautiful.
I love the balloon sleeves paired with a flowing body, and how the blouse is semi-sheer to reveal whatever you happen to be wearing (or not) underneath. Side slits add versatility, so you can leave the shirt out or tuck it in.
The button down placket leads up to a pointed collar, which is so small it almost looks mandarin in style.
An easy answer for wardrobe worriments, you can dress it up or down (how sweet would this look with skinny jeans and ballet flats?)
Dolce & Gabbana leopard print blouse, $1095, eLUXURY.com