Banana Republic Color-Blocked Skirt
Written by H, Posted in Skirts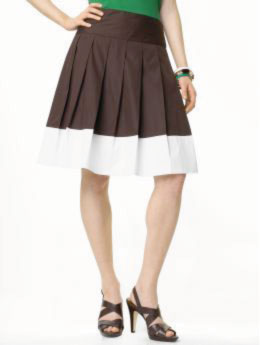 Besides colour-blocking, the 2008 spring/summer season sees a lot of bright colours paired with understated neutrals. With a few neutral pieces acting as staples in your wardrobe, styling classic chic has never been so easy!
This colour-blocked skirt by Banana Republic is an essential A-line style. Coloured deep carob brown with a thick white band around the hem, this skirt is 100 percent breezy cotton. Pleats circle the waistband and extend the full length of the skirt, so they don't just add volume — they flatter your figure.
Hemmed just at the knee, this Banana Republic skirt would wear sweet with bright ballet flats, or business with platformed sandals. I'd wear it with a brightly coloured tank or button-down and contrasting accessories.
Banana Republic colour-blocked skirt, $69, BananaRepublic.com