Downton Abbey
Written by H, Posted in Arts / Culture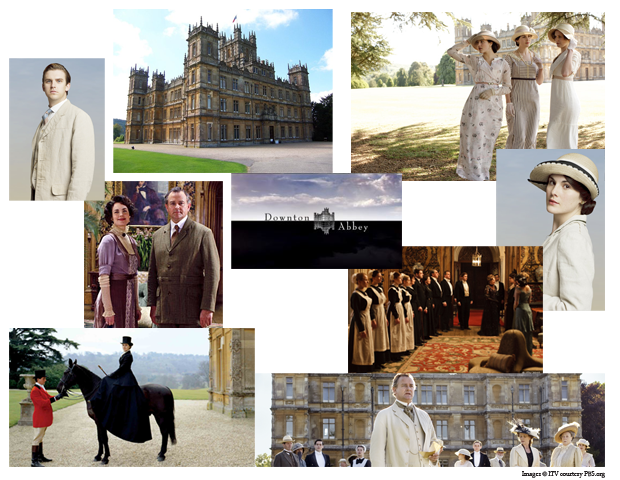 "The sun is rising behind Downton Abbey, a great and splendid house in a great and splendid park. So secure does it appear, that it seems as if the way of life it represents will last for another thousand years. It won't."
And so the stage is set for the story of Downton Abbey, the first season of which has just finished airing on PBS. Is anyone else obsessed?! From the opening episode, which introduced us to the Crawley family and their troupe of servants, I have been absolutely enamoured with the show. Set in 1912 at the Crawley country house, the series was filmed at historic Highclere Castle in Newbury. Downton Abbey tells the dramatic tale of Downton's dynasty — the Crawley family and counterparts — which are a group of complex and unique characters. Watching each episode is like peeling another layer deep into a delectable (and often dark) domain. Downton Abbey was created and written by Oscar-winner Julian Fellowes, and the series has no shortage of excitement and interweaving story lines. I am just thrilled that there will be a second season!
Many of you will remember Gosford Park, Vanity Fair, and most recently Young Victoria. Julian Fellowes was the creator of all of them, which made so much sense to me after watching the first episode of Downton, because each story just crackles with complexities and certain undeniable similarities. Beyond the creative genius of Julian Fellowes, I am absolutely taken with the stunning scenery and costume creation for this series. Really! Those dinner dresses are sheaths I would style even today. Whether with intricate beading, lace details, or both, Lady Mary and her sisters never came to the table looking anything short of sensational.
In case you missed the first airing, you can always order the DVD from PBS, or watch the episodes online. Even if you're not normally into period dramas, this is one that will instantly captivate you and leave you wanting more.