Robertson's Reads: The Seductive Shoe
Written by H, Posted in Fashion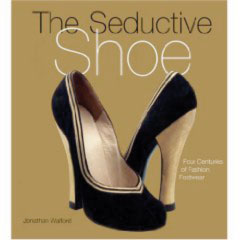 From fashion historian Jonathan Walford comes a comprehensive look at the evolution of footwear through the last four centuries. An amazing history book, The Seductive Shoe features a chronological rundown of unique and relatively unknown details on how shoe design changed with world circumstances. Walford elaborates on changes in shoe production, and how certain shoe styles were originally developed.
Overflowing with vivid photographs (which I think are reminiscent of Bata Shoe Museum's shoe calendar), this book is an essential footwear glossary and great reference work for aspiring designers and shoe collectors. It also features a fairly well documentated appendix, lisiting popular designer names, though this appendix could have catered to lesser known names.
I certainly recommend The Seductive Shoe for every female; who doesn't love shoes? It would make an excellent coffee table book, though most readers will have a hard time putting it down.
The Seductive Shoe: Four Centuries of Fashion Footwear by Jonathan Walford, $30.24, Amazon.ca