Get Inspired: Etro Spring 2011 Ready To Wear Collection
Written by H, Posted in Get the Look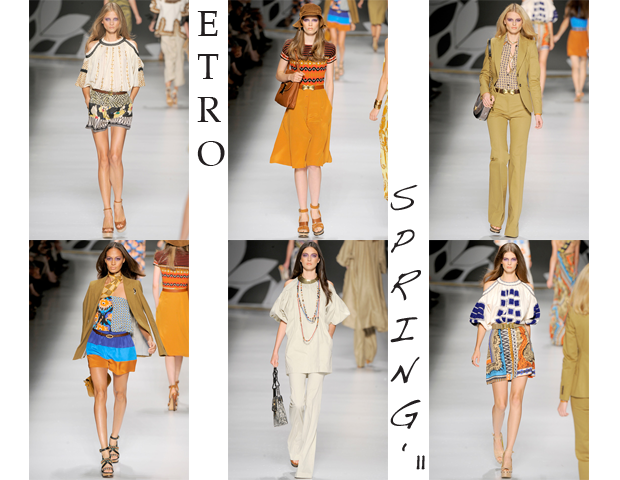 As long as my memory can recall, I've always had a love for Etro. The Italian fashion house has always been the epitome of classic 1970s style. (Think Victoria Principal as Pam on Dallas.) But don't for a second let that make you think the label's designs are outdated. In fact, it's quite the contrary.
Kean Etro, who heads Etro's menswear collections, and Veronica Etro, who directs the Italian brand's womenswear, have always stayed true to their roots. Founded in 1968, Etro has been a long-standing example of 70s style. And the ironic thing is, even though each collection is charged with a serious vintage vibe, Etro designs are timeless. And the Spring/Summer 2011 collection is no exception.
Overflowing with centre parts, heavily lined eyes, vibrant colours, platform wedge sandals, and lots of heavy accessories, the Spring 2011 Etro collection is a dream for any woman wanting to get her glam on. While there were no sequins or flashes of gold, Etro's ready to wear offerings merged the label's famous prints with a tribal twist and some serious geometrics for a collection that is both bold and beautiful.
Check out the full collection on Style.com.
Images courtesy Style.com