Don't be conformed, be transformed
Written by H, Posted in Christian Living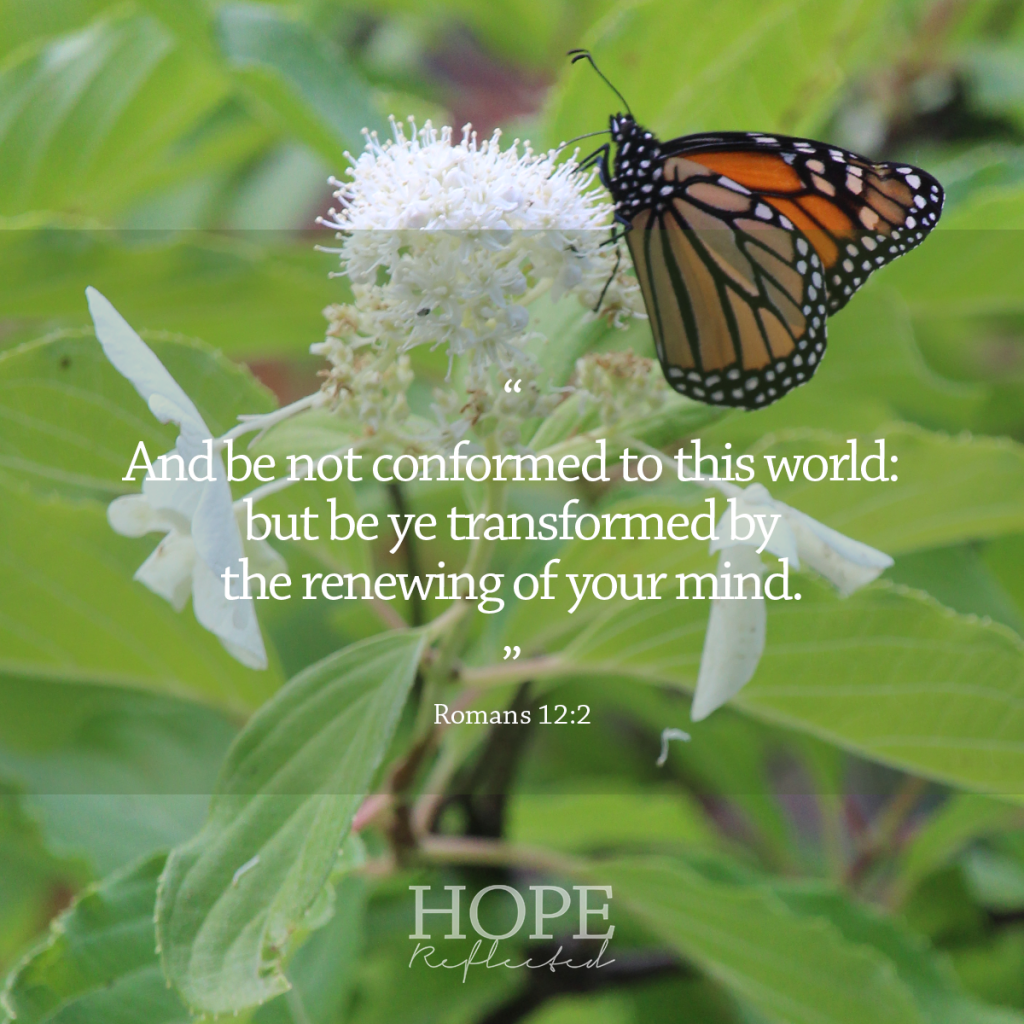 We can learn a lot from the monarch butterfly
For the past few years, Wes and I have tried to garden with pollinators in mind. We've specifically sought out plants that we understand to be attractive to monarch butterflies. Milkweed, elderberry, and zinnias are a few. This year, we've added to our collection with American plum trees, through our community's pollinator-friendly plant sale.
Wes and I have both always loved monarch butterflies. Call them the ugly duckling or the little engine that could, but whether considering the butterfly's transition from caterpillar to butterfly, or its annual cross-continental journey, we can learn a lot from the monarch.
The monarch butterfly goes through multiple stages of metamorphosis as it grows from larva to caterpillar and then to its final form as the formidable butterfly. Through each of these stages, we don't see the monarch compare itself to the creatures around it; it just grows where the Lord has placed it. The monarch concentrates on its development rather than making comparisons. Galatians 6:4 tells us, "Let every man prove his own work, and then shall he have rejoicing in himself alone, and not in another."
Concentrate on development rather than making comparisons
Don't compare yourself to others. Where they're at on their walk has nothing to do with you, and we all know that comparison is the thief of joy. Career, education, children, finances, and even your spiritual growth – these are all areas in which we're tempted to make comparisons to others. In moments when you find yourself making comparisons, remember this: You are an individual, one of God's unique creations. "Your hands have made me and fashioned me: give me understanding, that I may learn thy commandments." (Psalm 119:73)
Keep your eyes on the Lord
By not comparing itself to others, the monarch butterfly is able to concentrate on the purpose for which God intended it. Through its various stages of development, the focus of the butterfly is on the work at hand. "Let thine eyes look right on, and let thine eyelids look straight before thee. Ponder the path of thy feet, and let all thy ways be established." (Proverbs 4:25-26)
When priorities are competing, plans are challenging, and people are comparing, it's easy to get sidetracked. Spiritual growth requires a great deal of focus on God's Word, a dedication to time alone with Him, and an earnest desire to serve the Lord. When you truly long to live God's will for your life, you can be sure that the devil will try darn hard to distract you. Stay strong, and remain focused. The psalmist said in Psalm 1 that we should meditate on God's Word day and night. Keep your eyes on the Lord. (Hebrews 12:2)
Press toward the mark for the prize of the high calling of God in Christ Jesus
The monarch butterfly is committed to the long game, and each of us would do well to learn from that type of determination. The monarch makes its migration every year from southern Ontario deep into parts of Mexico. That's commitment! Think of the adversity that such a small creation could encounter throughout its cross-continental journey – from hungry animals and traveling cars to adverse weather and weary wings – and yet it presses on.
"Commit thy way unto the LORD; trust also in him; and he shall bring it to pass." (Psalm 37:5) Are we in it for the long haul, like the apostle Paul said? Are we forgetting the things behind and reaching forward to the things before, pressing toward the mark for the prize of the high calling of God in Christ Jesus? (Phil. 3:13-14) Or are we looking for earthly glory and exploring our own self-interests?
For God's good, true, and perfect will, don't be conformed, be transformed by the renewing of your mind. (Romans 12:2)
Originally published as "Don't be conformed, be transformed." Minto Express, Independent Plus, Arthur Enterprise-News, Mount Forest Confederate, Walkerton Herald-Times. May 2, 2019: 6. Print. Web.