Benefits of God
Written by H, Posted in Christian Living, Published Work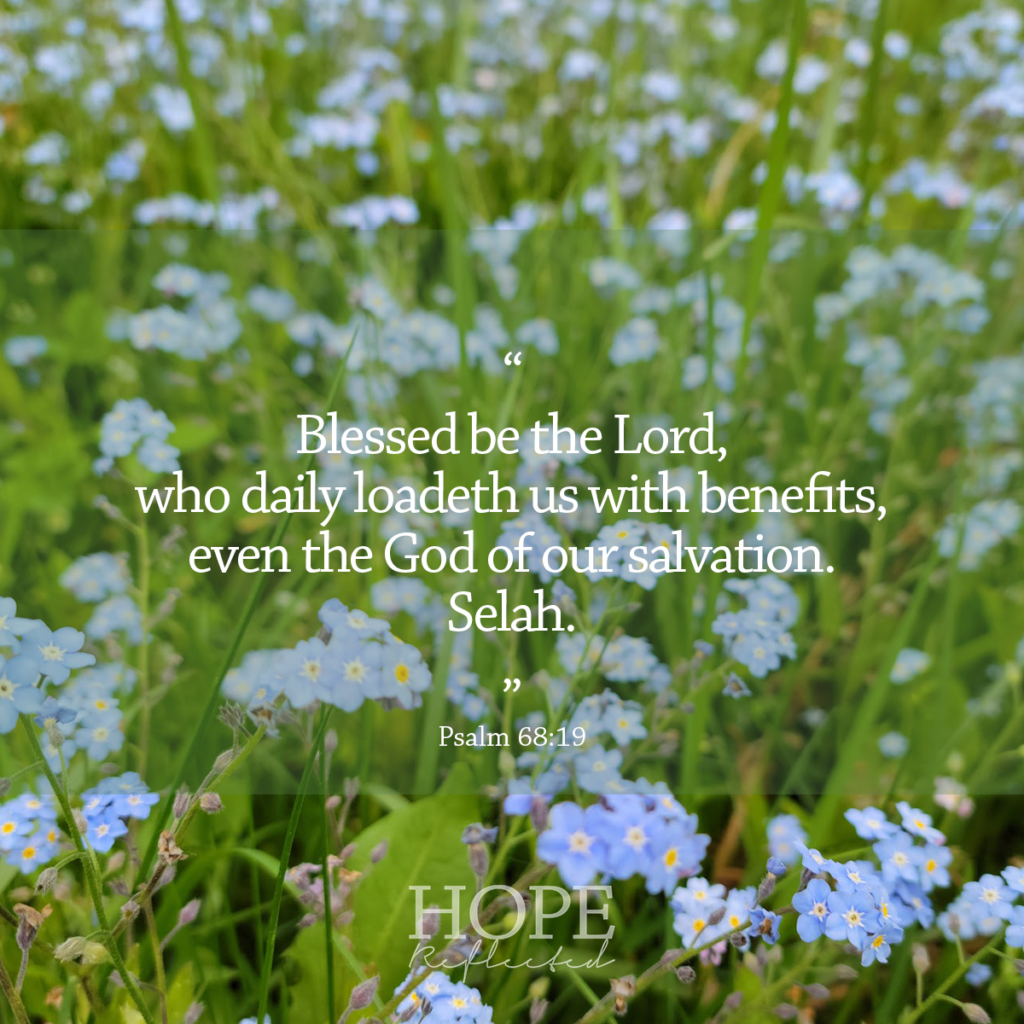 A reminder to see God's blessings in the every day
Last week, a friend shared that she keeps Psalm 68:19 posted on her desk to provide her with a reminder to see God's blessings in each day: "Blessed be the Lord, who daily loadeth us with benefits, even the God of our salvation. Selah." (Psalm 68:19). It is thought that David wrote Psalm 68 after God provided him with rest from his enemies and he brought the Ark of the Covenant to Zion. "So many, so weighty, are the gifts of God's bounty to us that he may be truly said to load us with them;" Matthew Henry said, "he pours out blessings till there is no room to receive them." This brings to mind Malachi 3:10 in which God promises to "pour you out a blessing, that there shall not be room enough to receive it." When we are obedient to God as David was, we can experience the same Lord who daily loads us with benefits. Not just one benefit or two, God "daily loadeth us" with benefits.
Later in his life, David penned Psalm 103. In this devotion, David wrote, "Bless the Lord, O my soul, and forget not all his benefits:" (Psalm 103:2). David made a habit of praising the Lord and recalling His benefits. While in Psalm 68 David didn't list out specifics of God's benefits to us, in Psalm 103 he provides more insight into some of God's benefits for which we should be thankful: He forgives our iniquities and He heals our diseases (v. 3), He redeems our life from destruction, He crowns us with loving-kindness and tender mercies (v. 4), He satisfies our mouth with good things and He renews our strength like the eagle's (v. 5).
God's use of repetition to remind us of His benefits
Do these benefits sound familiar? That's because they are. Just as David wrote more than once about God's benefits, throughout the Bible God uses repetition to remind us and teach us important lessons, like being thankful and remembering His blessings. He crowns us with loving-kindness and tender mercies. These tender mercies are the same mercies that we read about in Lamentations 3:22-23: "It is of the LORD's mercies that we are not consumed… They are new every morning:". God promises us mercies that are new every morning – because He daily loadeth us with benefits. Every single day.
Or what about how God renews our youth like the eagle's? This is the same promise we find in Isaiah 40:31: "But they that wait upon the LORD shall renew their strength; they shall mount up with wings as eagles; they shall run, and not be weary; and they shall walk, and not faint." God doesn't promise us the strength of a chickadee or robin, and for good reason. He renews our strength like the eagle's strength because eagles are one of the most formidable birds on earth. They're incredibly fast, have excellent eyesight, and can carry at least four times their weight in prey.
Tender mercies from God never expire. Strength found in God is never small. Benefits of God are never trivial. God never does anything halfway; He always has His best in mind for us.
Originally published as "The benefits of God." Independent Plus. January 21, 2021: 5. Print. Web.