Hope, She Wrote: 3 Ways to Achieve Your Goals
Written by H, Posted in Christian Living, Published Work, Uncategorized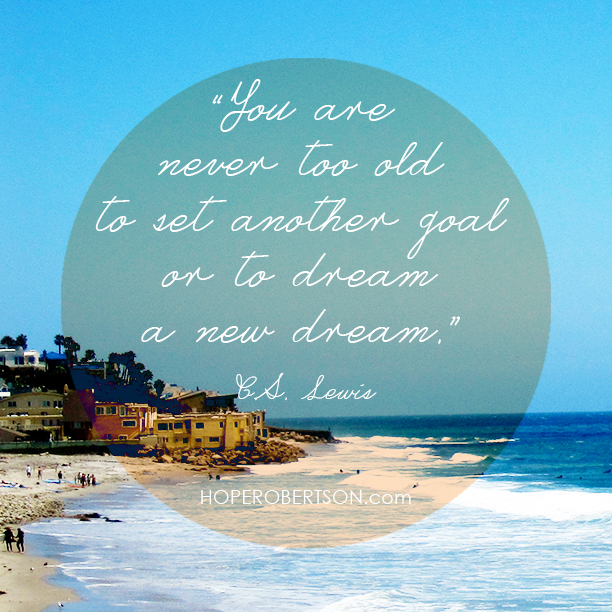 It was C.S. Lewis who said, "You are never too old to set another goal or to dream a new dream." Dreams and goals are great, but it's important to remember that you've got to back them up with action. Remember back to New Year's Eve, that magical evening just a couple of short months ago, when people were all pumped full of new energy (and some full of champagne), making biiig plans for 2015? Committing that this was going to be the year of big life changes — getting fit, pursuing new career goals, starting to volunteer, developing healthy eating habits, reading more books — and living your best life? Yeah!!! I remember New Year's Eve, too.
So… how are your goals going? If you made resolutions, are you still on the right road? If you've strayed, or even if you've completely fallen off the wagon — whether it be fit/work/volunteer/food, — you're not alone. Usually it's about this time in the 'new' year when people start to lose track of their goals and their original focus.
If you're someone who's lost focus of your goals, here are three ways to help you achieve your goals and get motivated:
Tell someone about it. One of the best ways to achieve your goals: Be accountable to someone. Whether it's through your social network, a peer group, or on a more private scale with an individual pursuing a similar goal, making yourself accountable is a great way to help you maintain focus and stay on the right track.
Be realistic, and be positive. Being real about your goals may require re-evaluation of your resolutions. The old adage, "Rome wasn't built in a day" is true, especially when it comes to pursuing your goals. Yes, goals should be challenging; they shouldn't be impossible. Pursuing goals takes patience, and hard work. If you slip up along the way or make a mistake, don't beat yourself up. Everyone makes mistakes. Mistakes can be stepping-stones on the road to success, as long as you learn from them and use them to grow. Having a positive attitude will help you to remain focused.
Set a due date. It's easy at the start of a new year, or when you set a new goal to say, "I want to lose weight", or, "I want to eat healthy". But being generic and vague about your goals or resolutions is no way to actively pursue them. You've got to put some numbers to it. Make a timeline and pace yourself — where do you aim to be in three months? Six months? One year? How long will it realistically take to achieve your goals? Giving yourself a due date, or having a set of specific target steps in mind with a completion date, will help you successfully achieve your goals.
I love this quote by author and filmmaker Greg S. Reid: "A dream written down with a date becomes a goal. A goal broken down into steps becomes a plan. A plan backed by action makes your dreams come true." Whatever goals and resolutions you're pursuing in 2015, remember — achieving your goals is possible with the right attitude and actions!
 Originally published as "3 Ways to Achieve Your Goals". Minto Express. 28 January 2015: 5. Print.