Hope, She Wrote: When It Comes to Comparison
Written by H, Posted in Christian Living, Published Work, Uncategorized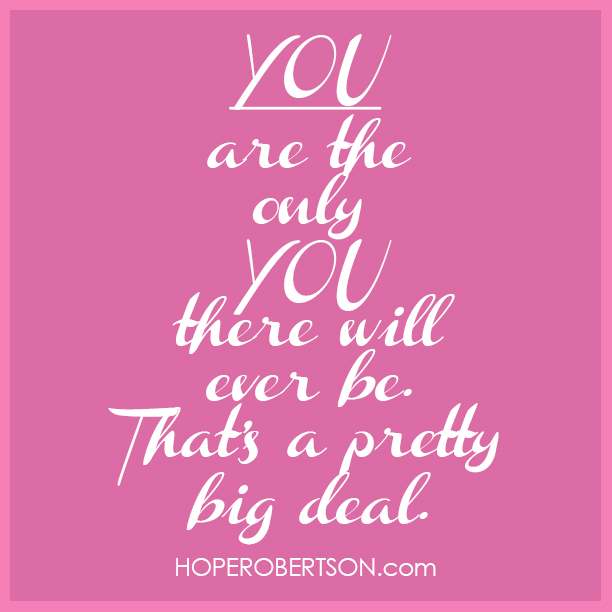 Comparison is not always a bad thing, but majority of the time, it's just like Theodore Roosevelt wisely said: "Comparison is the thief of joy." The sword of comparison is double-edged: Comparison can cause pride in our own lives, and on the flip-side, it can rob us of our contentment.

I'm not sure why it's a big deal, but as several of my friends and I approach that momentous 30th birthday milestone, we've become very aware of time, accomplishments, and expectations in each of our lives. Perhaps it's the fact that we're no longer in our early twenties – we might feel like we are, but trust me, spend some time with those kids and it becomes glaringly obvious that we're waaay past that stage of life –and we're also not old and experienced enough to be without dreams and goals that we still want to achieve.

Reflection on one's life has the tendency to tempt us to compare. It's like there are certain expectations from society that when you turn thirty you're supposed to have accomplished certain things in life – buying a house, getting married, having children, being established in your career path of choice, traveling the world – and if you aren't doing these things, you're not "normal" or "successful". I beg to differ. Each of us was created unique, and we're each here on Earth for a certain purpose. The timing for your life plan is different than mine, and we shouldn't get caught up in comparison. Comparison is a bad habit that has several shortcomings.

Here are helpful things to remember when it comes to comparison:

"Comparison is the thief of joy." Teddy Roosevelt was right about that. Comparison actually causes resentment and jealousy, it can even cause pride – all traits that we should avoid. Comparison puts the focus on circumstances over which you have no control, and steals energy that you could be putting into being your best self.
When you find yourself tempted to compare, practice gratitude. Being thankful and practicing an attitude of gratitude has a way of bringing to light the blessings that we already have. It also promotes contentment. Practicing gratitude also has this awesome way of helping us demonstrate other fruits of the Spirit – love, joy, peace, kindness, faithfulness, gentleness, and self-control.
Instead of competing with others, get inspired. When we compare ourselves to others, there's often the temptation to compete – "keeping up with the Joneses", if you will. Instead of comparing and competing, get inspired. Learning from the life experiences of others can be very beneficial, and if you see positive traits in another person that you genuinely admire, let that prompt real positive change in your own life.

Don't let the world define "normal" or "successful" for you – you are the only you there will ever be. You are a completely unique creation. That's a pretty big deal. As Judy Garland said, "Always be a first-rate version of yourself, instead of a second-rate version of somebody else." Rather than wasting time on comparisons, learn the mindset of being content.
Robertson, Hope. "The Dangers of Comparison." Minto Express 08 October 2014: 5. Print.