Hope, She Wrote: Three Factors of Friendship
Written by H, Posted in Christian Living, Published Work, Uncategorized
We're less than one week into the new year, and already I'm counting several reasons to be thankful for my closest friends. If you're someone who has ever struggled to fit in, then you'll appreciate these three characteristics of true friends. Friends, thank you.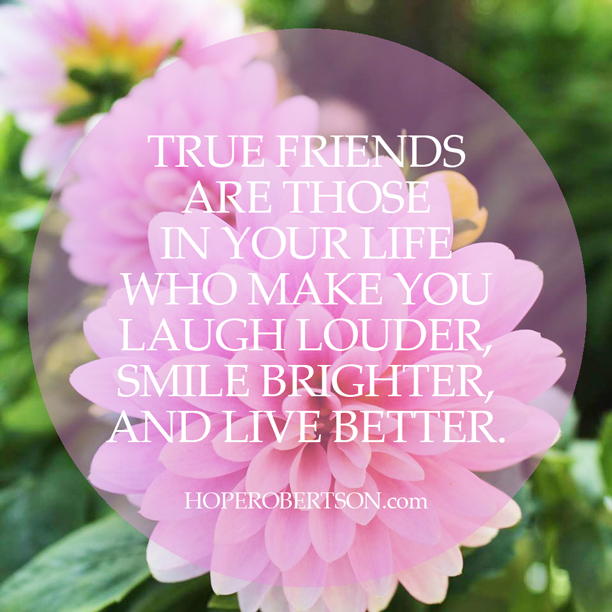 Always one to look on the bright side, I sat down the other night and added some items to my gratitude list (taking a queue from Bing Crosby's "Count Your Blessings"), and because many of my gratitude items are directly related to people, I really got thinking about all the incredible humans that I'm so blessed to call friends.
The word "friend" is defined as "a person whom one knows and with whom one has a bond of mutual affection". [FYI, the word "friend" is also listed as a verb, to "add (someone) to a list of contacts associated with a social networking website," but we won't even go into the disingenuous disposition of social networking at this time.]
When I was in middle school, I really struggled to fit in. (Shocking, right?) In high school, I made a couple of lifelong friends, and in college, my path crossed with another great group of people, who today remain some of my nearest and dearest (even though we're all living in various countries throughout the world – literally). And since moving to small-town Clifford, I've been blessed to find what I'd call a few really solid, true-blue, best friends.
The thing about friendship is that in order to have friends, you've got to be a friend. It took me a while to learn this. It's like the old adage, "Don't wait for people to be friendly. Show them how." Well, I'm no expert, but I'd venture to say that one of the key components of true friendship is that the street goes both ways. Friendship is one of those things for which we have to decide to make time. Family, work schedules, travel – all of these things take time. And friendship is no different.
A few columns ago, I wrote about nurturing the hearts of others, and part of that means savouring sweet moments with friends, and letting them know that you care. Here are three factors of friendship that I'm thankful for:
Friendship that is based on genuine mutual interests and a listening ear. There's something so powerful about a set of friends who truly care about each other not just on a personal level, but spiritually as well. These are friends who typically have best interests at heart. This is something I'm thankful for, as well friendships where listening is just as important as talking.
Friendship that can span miles, and years, without changing. Ever had a friend, with whom you lost touch, only to reconnect with them a few years later, – or maybe even after a decade – and it's as though nothing at all has changed (except maybe your laugh lines are deeper)? Yeah, I'm thankful for those friendships.
Friendship without conditions. There will always be those people who want to connect and "be friends" for their own selfish benefit. But, as we all know, friendship requires a certain amount of selflessness (seems obvious, but srsly, some people…). You can't be in it for your own benefit or based on your own conditions (otherwise it's not true friendship). I'm thankful for friends who are my friends regardless of circumstances or what I can do for them (and vice versa). Charles Spurgeon once said, "you may judge of a man's character by the persons whose affection he seeks. If you find a man seeking only the affection of those who are great, depend upon it he is ambitious and self-seeking; but when you observe that a man seeks the affection of those who can do nothing for him, but for whom he must do everything, you know that he is not seeking himself, but that pure benevolence sways his heart."
What are the friendships that you're thankful for? Don't just keep your gratitude to yourself – share it with your friends!
Originally published as "Three Factors of Friendship". Minto Express 22 October 2014: 5. Print.