Hope Reflected: 3 Things to Do When You Get Angry
Written by H, Posted in Christian Living, Published Work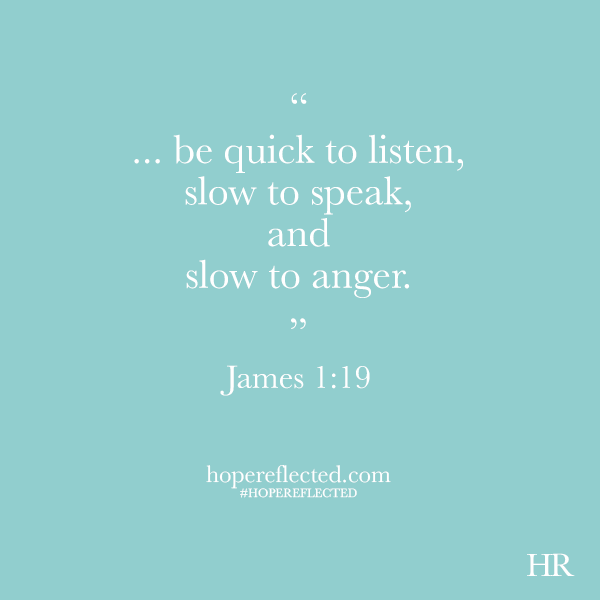 Someone says or does something rude or obnoxious or insinuates an untruth about you.
You turn on the news – bad news, sad news, completely biased and 'politically correct' news – and you get fired up and go into debate mode.
You make a mistake – break something, lose something, ruin your favourite sweater in the wash – and you get mad.
We've all been there, because we've all been, (and will be again at some point in the future), angry. Anger is an emotion that's a part of life.
Here are 3 things to do when you get angry:
Determine whether you're sad or mad. You might not think there's a difference, because anger is anger, but there is. We often mask feelings of sadness with anger. Maybe that's because we're trying to come across strong instead of weak, and whatever the reason it's not healthy. In the book of Galatians 5:22-23 (KJV), we're taught about the fruits of the Spirit, which are the exact opposite of anger or sadness: "But the fruit of the Spirit is love, joy, peace, longsuffering, gentleness, goodness, faith, meekness, temperance: against such there is no law." While it's one thing to suggest we should never be angry or sad, that's also completely unrealistic. When we do experience negative emotions however, we should take the time to determine their root, and take steps to overcome.
Decline from doing anything. You may have heard the saying; "A moment of patience in a moment of anger saves you a hundred moments of regret." When feelings of anger strike, take a step back. 5 minutes, 5 days, if you need time to cool off before you react, take the time. As James wrote in James 1:19 (NLT): "…be quick to listen, slow to speak, and slow to anger." Words spoken can't be retracted, and reactions are remembered. When you do opt to act, remember what we've been commanded in Ephesians 4:32 (NLT): "…be kind to each other, tenderhearted, forgiving one another, just as God through Christ has forgiven you."
Don't dwell on it. You may be the one who requires forgiveness, or perhaps you need to extend forgiveness. Forgiveness is the one true way to move forward, to relieve feelings of anger, and to get better – best to take care of it sooner than later, otherwise you risk becoming bitter. David said in Psalm 37:8 (NLT), "Stop being angry! Turn from your rage! Do not lose your temper – it only leads to harm."
Being angry isn't a sin, but being controlled by your anger is. Anger is a fact of life, and while it can't be avoided, it can be remedied. It's easy to talk about when life is good and everything's going your way, but even when the chips are down, here's some good advice to remember from John. C. Boger: "Anger and bitterness are two noticeable signs of being focused on self and not trusting God's sovereignty in your life. When you believe that God causes all things to work together for good to those who belong to Him and love Him, you can respond to trials with joy instead of anger or bitterness."
Originally published as "3 Things To Do When You Get Angry." Minto Express. February 24, 2016: 5. Print.