Hope Reflected | The Blessing in Obedience
Written by H, Posted in Christian Living, Published Work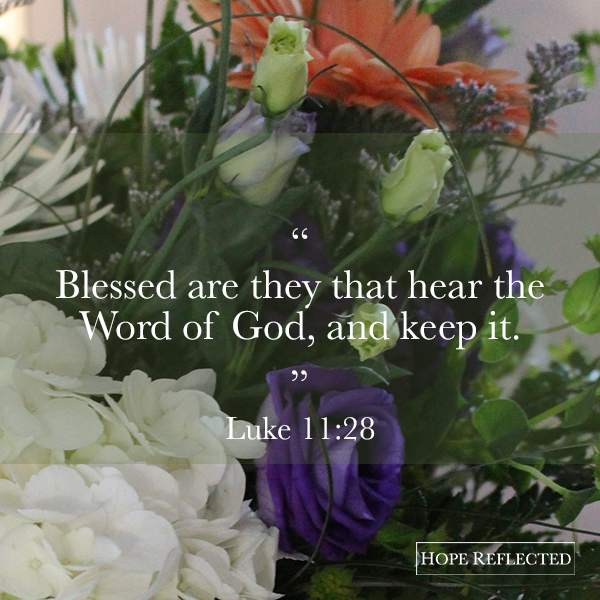 The Blessing in Obedience
Piano lessons. Talk to any adult, and they'll tell you stories from their child hood about piano lessons. The difference in how the stories end is always related to obedience – some individuals demonstrated obedience in practicing piano, while others gave up and moved on to something else. In the long term, the benefits of demonstrating obedience in practicing piano means more than likely those individuals can still play today! It's a great feeling of satisfaction as an adult to reap the benefits of obedience when you were a child.
The Bible talks a lot about obedience, and the book of Hebrews specifically recognizes great men and women from the Bible who were obedient and faithful: Abraham, Moses, and Sarah just to name a few.
Obedience plays a part in every believer's life, and the Bible has much to say on the topic of obedience:
Obedience shows that we believe in and love God. Abraham, Moses, Sarah, and other men and women of faith in the Bible, demonstrated their belief and faith in God through their obedience. Jesus said in John 15:14, "If you love me, you will keep my commandments." Similarly, 1 John 2: 4-5 says, "He that saith, I know him, and keepeth not his commandments, is a liar, and the truth is not in him. But whoso keepeth his word, in him verily is the love of God perfected: hereby know we that we are in him."
Obedience brings glory to God. As Christians, we have a responsibility to be obedient to God's Word. Though it's not always easy – especially when popular opinion contradicts much of the Bible's truths – obedience brings glory to God. Matthew 5:16 says, "Let your light so shine before men, that they may see your good works, and glorify your Father which is in heaven."
Obedience brings blessing. Psalm 1:1-2 tells us, "Blessed is the man who walks not in the counsel of the ungodly, nor stands in the path of sinners, nor sits in the seat of the scornful; But his delight is in the law of the LORD, and in His law he meditates day and night." We're also told in Proverbs 13:13, "Whoso despiseth the word shall be destroyed: but he that feareth the commandment shall be rewarded." Jesus even said in Luke 11:28, "Yea rather, blessed are they that hear the word of God, and keep it."
Obedience brings freedom. Jesus said in John 8:31-32, "If ye continue in my word, then are ye my disciples indeed; and ye shall know the truth, and the truth shall make you free." And with freedom, comes peace. D.L. Moody was famously quoted as saying, "There will be no peace in any soul until it is willing to obey the voice of God."
What are you waiting for? If you want to see God do extraordinary things in your life, start taking steps of ordinary obedience.
Originally published as "The Blessing in Obedience." Minto Express, Independent Plus. December 7, 2016: 5. Print.