The Importance of Fellowship
Written by H, Posted in Christian Living, Published Work
Without Christian fellowship, our faith will falter.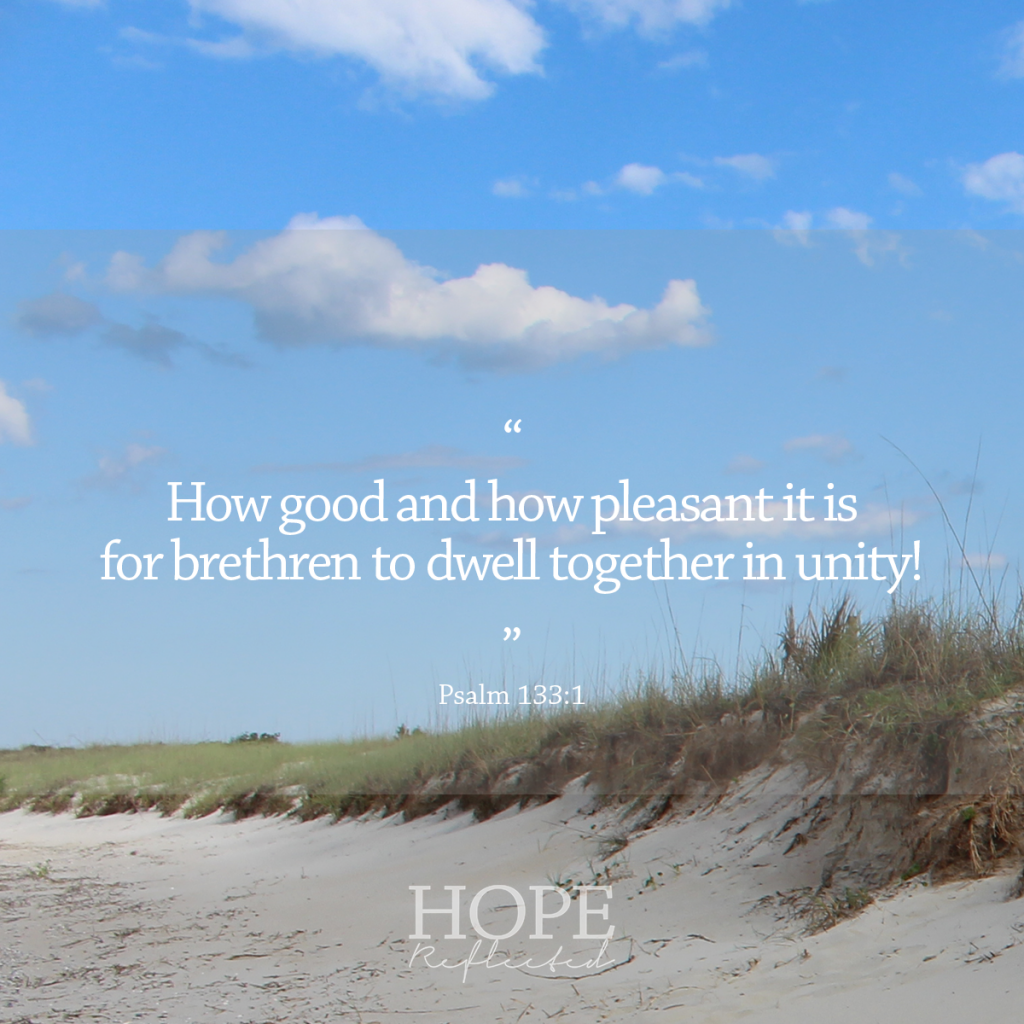 Our church family email group recently sent out a prayer request for one of our members. Wes and I, along with many others in our church, continue to pray for our friend. It is such an encouragement to have a strong community of believers, who pray for one another and care for one another's well being.
Christian fellowship is powerful – not because of the people who are part of it – but because of Who we serve.
In Anne Graham Lotz's book, Jesus in Me, she shares how fellowship directly affects our faith by using the analogy of a burning log that is removed from the fire. When it's not a part of the fire – eventually, the log stops burning. When a fish is removed from water – eventually, the fish stops breathing. When a star runs out of hydrogen – eventually, the star stops being a star. So it is with us; without Christian fellowship, our faith will falter. We need community.
Christian fellowship is powerful – not because of the people who are part of it – but because of Who we serve.
Beyond fellowship with our brothers and sisters in Christ, our church community is one of the places where we have fellowship with our Heavenly Father. J.R.R. Tolkien, author of Fellowship of the Ring (from the Lord of the Rings trilogy) once wrote to his son that, "the only cure for sagging or fainting faith is Communion." Communion itself is the very act of communing with God. "That which we have seen and heard declare we unto you, that ye also may have fellowship with us: and truly our fellowship is with the Father, and with his Son Jesus Christ." (1 John 1:3)
A Shared Faith
Fellowship is a shared faith, even in the face of opposition. In 1 Samuel 20, we read about the strength of David and Jonathan's friendship, which was based on their shared faith. Even in the face of opposition, these two men shared a common bond: "The LORD be between me and thee, and between my seed and thy seed for ever." (1 Sam. 20:42) Fellowship between believers is a friendship that stands the test of time, and also provides an encouragement you won't find in other earthly relationships. "A friend is someone," said C.S. Lewis, "who knows the song in your heart and can sing it back to you when you have forgotten the words."
The Power of Fellowship
Fellowship also equips us with strength in the midst of suffering. When Shadrach, Meshach, and Abednego were persecuted for their faith and thrown into the fire, the very man that put them there said, "Did not we cast three men bound into the midst of fire? … I see four men loose, walking in the midst of the fire, and they have no hurt; and the form of the fourth is like the Son of God." (Daniel 3:24-25) That is the power of fellowship – it's not just between us as Christians, it's between us and Christ! We were called into His fellowship! It reminds us that we are not alone.
"Has it ever occurred to you that one hundred pianos all tuned to the same fork are automatically tuned to each other?" asked A.W. Tozer. "They are of one accord by being tuned, not to each other, but to another standard to which each one must individually bow." Fellowship doesn't necessarily mean freedom from disagreements – so long as we're humans there will be no perfect church – but it is something that we are called to in Christ (Phil. 2). We are called to be likeminded, to be of one accord, of one mind. As Psalm 133 begins, "Behold, how good and how pleasant it is for brethren to dwell together in unity!"
Originally published as "The Importance of Christian Fellowship." Minto Express, Independent Plus, Arthur Enterprise-News, Mount Forest Confederate, Walkerton Herald-Times. September 12, 2019: 6. Print. Web.