Victory in Jesus
Written by H, Posted in Christian Living, Encouragement, Published Work
Enough with the fatalistic attitude!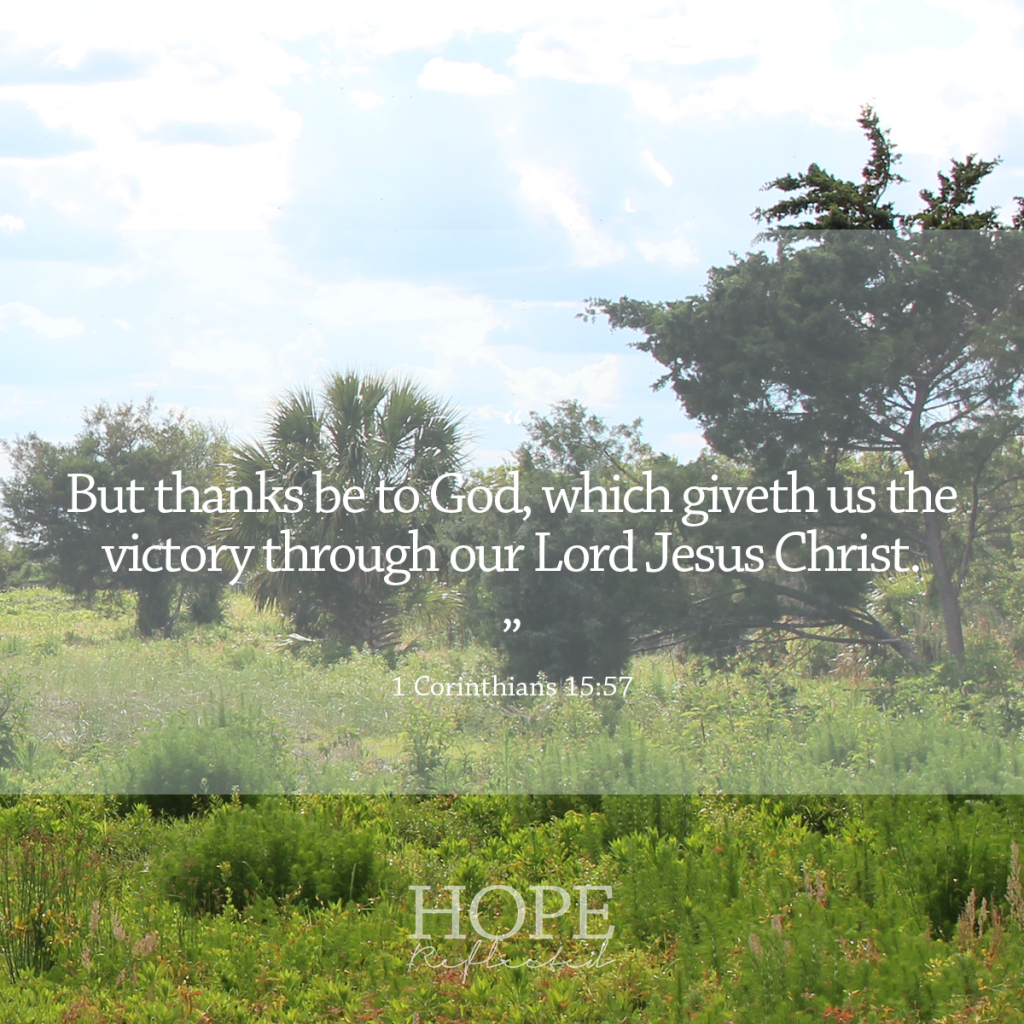 "But thanks be to God, which giveth us the victory through our Lord Jesus Christ. Therefore, my beloved brethren, be ye steadfast, unmoveable, always abounding in the work of the Lord, forasmuch as ye know that your labour is not in vain in the Lord." (1 Corinthians 15:57)
We aren't called to be wimps. We are not called to get caught up in doom and gloom or bad news and bothered outlooks; enough with the fatalistic attitude! We are called to step up, get out there, and be game changers. Christians, remember and rejoice: We have the Holy Spirit living inside us!
Taking courage in the promise of Victory.
Take courage in the promise of victory in Jesus that David shared in Psalm 110. Consider the victory we have in Jesus through His resurrection from Acts 2:31-33: "He [God] seeing this before spake of the resurrection of Christ, that his soul was not left in hell, neither his flesh did see corruption. This Jesus hath God raised up, whereof we all are witnesses. Therefore being by the right hand of God exalted, and having received of the Father the promise of the Holy Ghost, he hath shed forth this, which ye now see and hear." Contemplate the awesomeness of the victory we have in Jesus Christ's triumphant return from Revelation 19:11,13: "And I saw heaven opened, and behold a white horse; and he that sat upon him was called Faithful and True…and his name is called The Word of God." There is victory in Jesus.
The theme of Victory.
We see it throughout Scripture. During Paul's ministry, though he faced persecution and trials, his communications all have this overarching theme of victory. Look at Paul's letters to the church at Corinth. One of the central themes is the joy of the Christian's life in Christ! Read through his letter to the church at Ephesus where he clearly talks about the church's position in Christ. Paul's letter to the church at Colosse considers Christ's preeminence and our life as Christians in Him. Or what about Paul's letter to the church at Philippi where he encourages believers about our confidence in Christ! Despite his circumstances, Paul's attitude was still that of victory in Jesus. What an awesome example for us to follow and be encouraged by.
We have proof of Christ's deity, we have our own detailed Biblical history, and we have the promise of Christ's triumphant return. What are we doing in the meantime? Take a cue from Scripture and take action. Obey Christ.
Have faith in Christ!
Jesus Christ Himself encourages us to have faith, even if it starts as a grain of mustard seed (Matt. 17:20). He also encourages us to let our light shine: "Ye are the light of the world. A city that is set on an hill cannot be hid…Let your light so shine before men…" (Matthew 5:14,16) We are not called to shrink back – we are called to step up. Don't like what you're seeing in the world? We aren't supposed to sit around just waiting for Christ to come save us, we are to let our light shine and share the Good News.
Originally published as "Victory in Jesus." Minto Express, Independent Plus, Arthur Enterprise-News, Mount Forest Confederate, Walkerton Herald-Times. September 19, 2019: 6. Print. Web.