Soldiers are made in battle
Written by H, Posted in Christian Living, Published Work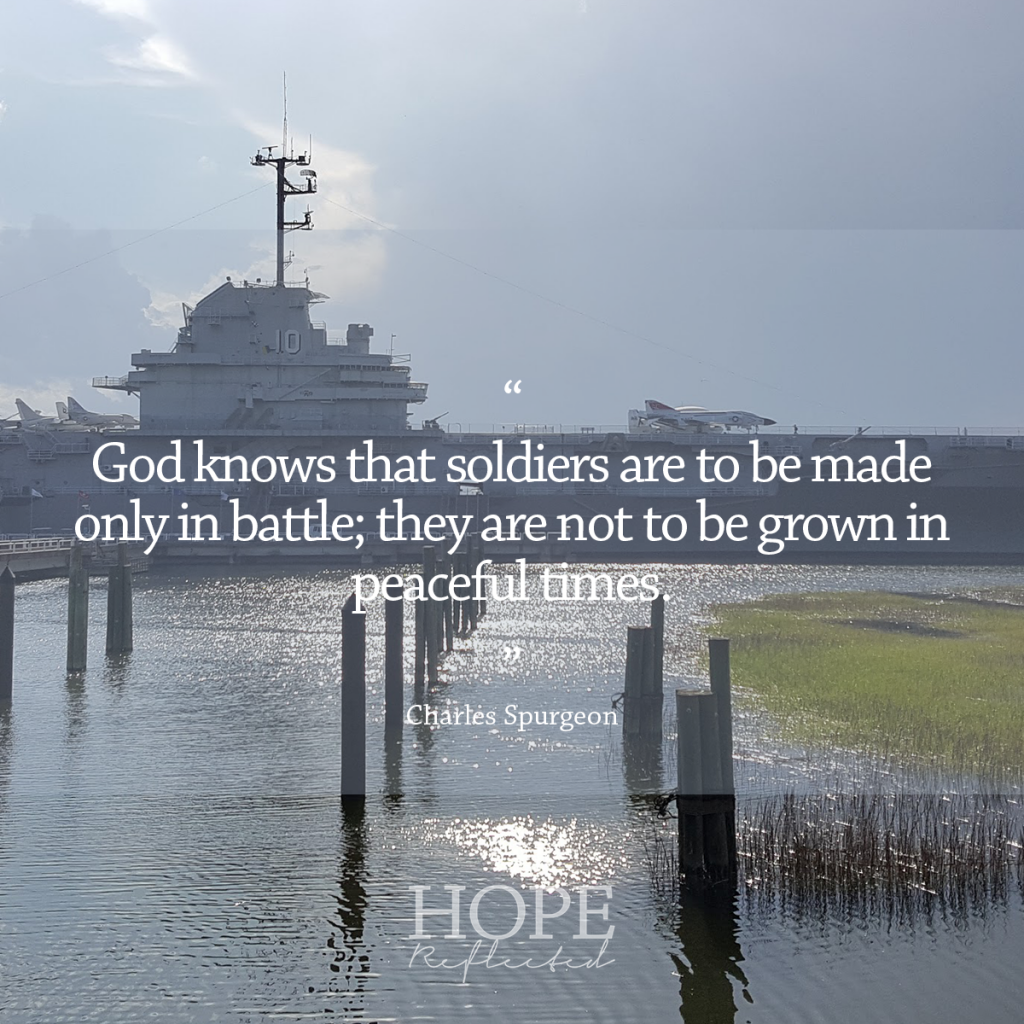 We're called to active duty
There's a traditional hymn called "I'm in the Lord's army," and the title of the song is lost on many. There is truth in it, however. As Christian soldiers, there are many things warring against us: The world, our flesh, Satan, false teachers, even what Paul called "oppositions of science falsely so called". So how can we be prepared?
When we enlist in the Lord's army, we're called to active duty. Christ Himself commanded us in Matthew 28:18-20, "All power is given unto me in heaven and in earth. Go ye therefore, and teach all nations, baptizing them in the name of the Father, and of the Son, and of the Holy Ghost: Teaching them to observe all things whatsoever I have commanded you: and, lo, I am with you always, even unto the end of the world. Amen." Go ye therefore! We are called to let our light shine, not to hide our faith under a bushel. Newsflash: This means that we must share the truth in love. How will anyone learn of Christ if they don't see Him in us? How will anyone learn of Christ if we're afraid to share the truth?
Be strong and endure
We're also called to be strong and to endure, and these are two characteristics that we must develop if we're going to share Christ with others. We need to be prepared, to be questioned, and to be opposed, – check out Christ's earthly ministry for examples. Paul wrote in 2 Timothy 2:1 that we should "be strong in the grace that is in Christ Jesus." Two verses later in 2 Timothy 2:3, he encourages us to "endure hardness, as a good soldier of Jesus Christ." At the same time we're called to be strong in the grace of our Lord, we are also called to endure hardness. We don't develop strength unless we endure hardness. We can't have one without the other.
Always alert and focused
Good soldiers are also always alert and focused. In his first epistle, Peter wrote that Christians should "Be sober, be vigilant; because your adversary the devil, as a roaring lion, walketh about, seeking whom he may devour," (1 Peter 5:8). As Christians, we need to be alert at all times. We should not be fearful; rather we should be frequent in our conversations with God. We should not be discouraged; we should be down on our knees in prayer. We should not give up; we should we give our burdens to God. The devil is busy, and he wants to keep us busy with anything but God. We need to stay focused, specifically on Christ. We should constantly be looking to Jesus (Hebrews 12:1-2).
Charles Spurgeon wrote, "God knows that soldiers are to be made only in battle; they are not to be grown in peaceful times. We may grow the stuff of which soldiers are made; but warriors are really educated by the smell of powder, in the midst of whizzing bullets and roaring cannonades… Is He not developing in you the qualities of the soldier by throwing you into the heat of battle, and should you not use every application to come off conqueror?"
Originally published as "Soldiers are made for battle." Minto Express, Independent Plus, Arthur Enterprise-News, Mount Forest Confederate, Walkerton Herald-Times. November 7, 2019: 6. Print. Web.