Monday Encouragement: John 14:27
Written by H, Posted in Christian Living, Encouragement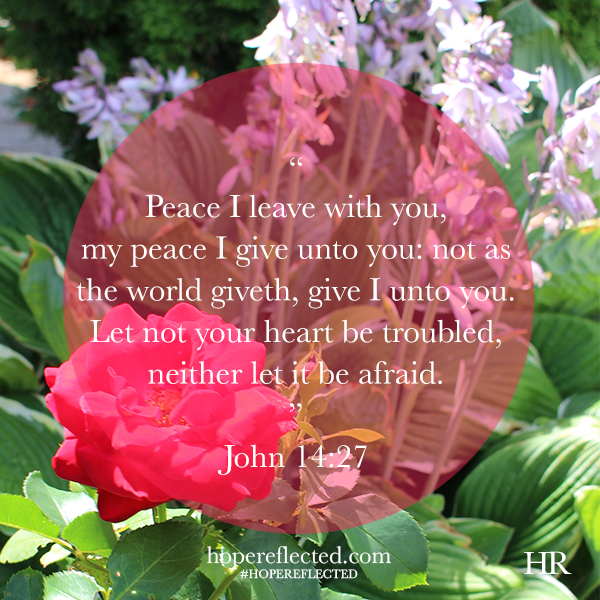 "Peace I leave with you, my peace I give unto you: not as the world giveth, give I unto you. Let not your heart be troubled, neither let it be afraid." John 14:27
The beginning of a new week is an opportune time to consider the peace that comes with knowing Jesus Christ as your personal Saviour.
In John 14:27, we understand God's peace is given to us as a gift. "Peace I leave with you, my peace I give unto you:". God's peace can't be had apart from His presence. Isn't that a wonderful thought? There is no true peace apart from God.
"not as the world giveth, give I unto you." If we limit ourselves to the gratification of earthly pleasures, we'll sell ourselves short of all the blessings available to us through a personal relationship with the Lord. Don't be deceived by what the world praises as good and successful; true goodness and true success — true peace, — can only be found in Jesus Christ.
"Let not your heart be troubled, neither let it be afraid." There are many verses throughout the Bible which encourage us to be strong in heart. Take Joshua 1:9, or Isaiah 41:10 as examples. When our heart rests in the Lord and we have His peace, He will provide us with the strength and the courage to face whatever is before us.
Wherever you're at this Monday morning, claim it: Peace is yours if you'll trust in the Lord, and He will provide for every area of your life if you'll let Him! Find your strength and courage in Him.