Hope Reflected: 3 Things We Should Do Every Day
Written by H, Posted in Christian Living, Published Work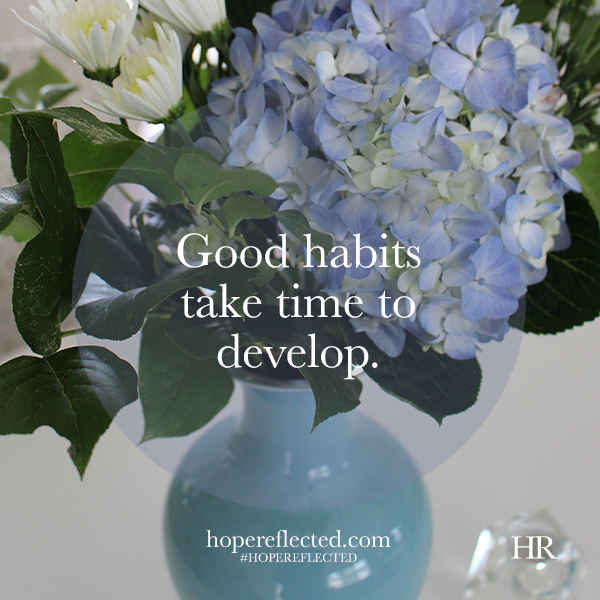 In my last column, I discussed the importance of doing devotions every day. After writing that column, Wes and I were talking about how devotions have impacted our life, and also about other habits we've developed that have worked wonders in our Christian faith.
We live in a world that where there are so many distractions that being busy and constantly connected is too easy. But what about being constantly connected to God? Are we truly taking time each day to connect with our Lord and Saviour about the things that truly matter?
There are so many good habits that we could get into, however here are three things that we should all do every day.
Read God's Word. 2 Timothy 3:16 tells us that "All scripture is given by inspiration of God, and is profitable for doctrine, for reproof, for correction, for instruction in righteousness:" The Bible is available to us so that we are equipped for life here on Earth, and if we're not reading it, we're missing out on some serious life hacks. King David says in Psalm 119:105, "Thy word is a lamp unto my feet, and a light unto my path." If you're feeling lost, lonely, or misguided, get into God's Word for direction. There is no topic untouched, and there are no exceptions. He'll provide the light you need.
Pray. 1 John 5:14 states, "And this is the confidence that we have in him, that, if we ask any thing according to his will, he heareth us:" Does that mean we should only go to God in prayer when we need something? Definitely not! God wants to hear from us everyday, about everything. Even the things you think don't matter have significance in God's eyes. He wants to hear our worries, our fears, our hopes, our dreams, and especially our thanks. You may wonder if there's a special way to pray, and there is. Jesus Himself talked about the way to pray in Matthew 6:9: "After this manner therefore pray ye: Our Father which art in heaven, Hallowed be thy name." Whenever we pray, we're instructed to pray in Jesus's name.
Rejoice. Philippians 4:4 says it best, "Rejoice in the Lord always; again I will say, rejoice!" It's not always easy to choose joy, however rejoicing is something we're commanded to do in the Bible. Does this mean we should always be happy and walk around with a fake smile plastered on our faces? Not at all! Rejoicing means to "feel or show great joy or delight", and also "cause joy to". Rejoicing doesn't mean that one always has to be happy, it just means that we have true lasting joy, no matter what the season. That's a gift from God! Psalm 5:11 says, "But let all who take refuge in You be glad, Let them ever sing for joy; And may You shelter them, That those who love Your name may exult in You." God is our refuge and he is a shelter to us; that's reason enough to rejoice each day!
Good habits take a while to develop, so if you miss a day of devotions or find yourself with a bad attitude, don't lose heart. Nobody is perfect, and the great thing is that God already knows that, and that's why He sent His Son. Develop the above habits one day at a time. You may find it helpful to set aside time in the morning for reading God's Word, to start your day off right. The great thing about prayer is we pray anytime, anywhere, however you may also find it helpful to pray before and after your Bible reading. And remember, we aren't expected to be happy all the time, however we are commanded to rejoice – choose joy and count your blessings.
Originally published as "3 Things We Should Do Everyday." Minto Express. June 29, 2016: 5. Print.