Written by H, Posted in Christian Living, Published Work
Prayer does not change God, it changes us. Prayer is action.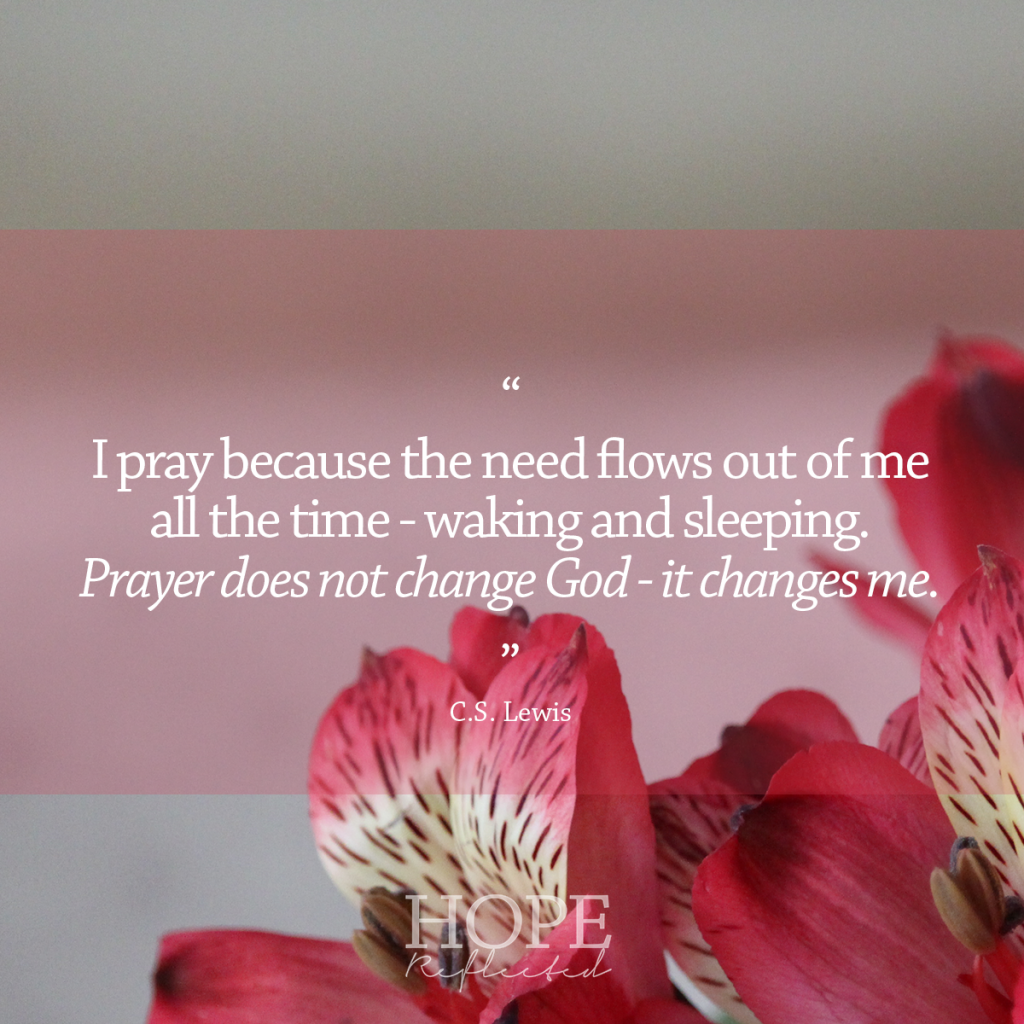 Through our prayers – through Christ – we open ourselves up to new opportunities for contentment, focus, forgiveness, hope, trust, peace, provision, transformation, glorifying God, and growing deeper in our relationship with Him.
It's easy to see the consistency in Christ's character as we look at His life through each Gospel account in the New Testament. During His ministry here on earth, Jesus lived a life filled with action – He didn't just speak life; He showed us how to live life by His example, including teaching us how to pray.
In Luke 11, the disciples ask our Lord to teach them how to pray, and He responds, "When ye pray, say…" and goes on to pray what we recognize today as the Lord's prayer.
Now, I realize that there are some who don't believe that prayer is action or relative to our character – perhaps because not every body sees it or perhaps because it can take time before we see results – however it's important to remember that prayer is action, and it is relative to our character. Prayer is a surrender of our own abilities and power, and the realization and recognition that it is not our prayers that are making changes – it's Who we're praying to that makes changes. Jesus knew this, and we see His reverence toward God in how He prayed.
He addressed God as Father. "Our Father which art in heaven," (Luke 11:2). Wes recently finished a book called "Father Hunger," by Douglas Wilson, in which Wilson addresses the importance of fathers. While I haven't read it myself, the book explores the impact that fathers – or a lack thereof – have on us as society as well as us relating to our heavenly Father. God is our Father, and the ultimate Father at that. He provides all our provisions; He satisfies all our needs and wants. He loves us more than our earthly Fathers ever could.
Jesus also sought time alone to pray. "And when he had sent the multitudes away, he went up into a mountain apart to pray: and when the evening was come, he was there alone." (Matthew 14:23). Jesus purposefully set time out in His day to be alone to pray. "And he withdrew himself into the wilderness and prayed." (Luke 5:16) "And when he had sent them away, he departed into a mountain to pray." (Mark 6:46). While you can pray anywhere, anytime, seeking time alone and away from distractions can help you concentrate as you still your heart before the Lord.
Beyond seeking time alone, Jesus taught us that in our prayers, we should give thanks to God. We should give thanks when God answers and hears our prayers, "At that time Jesus answered and said, I thank thee, O Father, Lord of heaven and earth…" (Matthew 11:25). We should give thanks before we eat, as Jesus taught us at the feeding of the five thousand, "And Jesus took the loaves; and when he had given thanks…". We should give thanks in every thing, as Paul did from Christ's example in 1 Thessalonians 5:18.
Time spent in prayer is one of the most important parts of life. As C.S. Lewis once said, "I pray because the need flows out of me all the time – waking and sleeping. Prayer does not change God – it changes me."
Originally published as "The Necessity of Prayer." Minto Express, Independent Plus, Arthur Enterprise-News, Mount Forest Confederate, Walkerton Herald-Times. February 7, 2019: 6. Print. Web.