Hope for the Anxious Heart
Written by H, Posted in Christian Living, Published Work
In the midst of how you're feeling, it always helps to remember the facts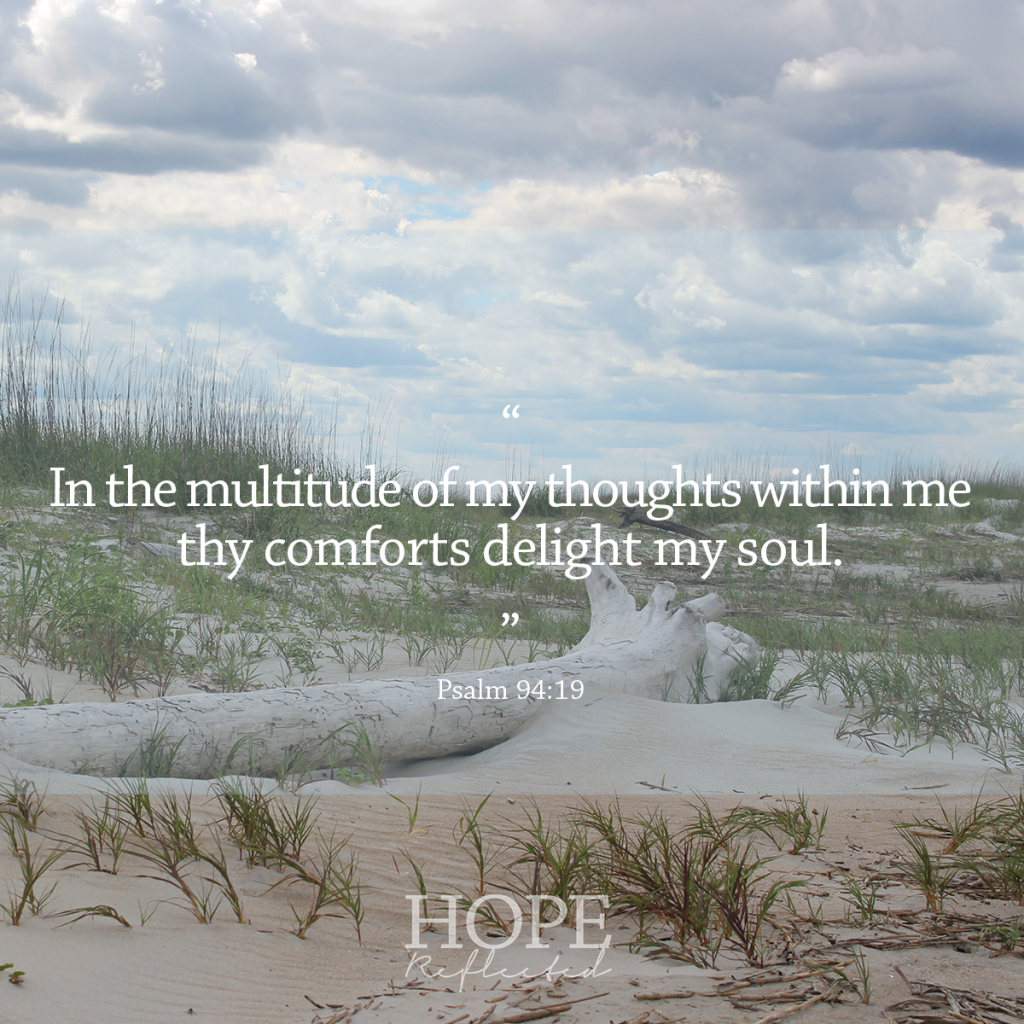 While the degree to which may vary, anxiety affects each of us in some shape or form. It can be easy to get caught up in the events of the day, to find your mind wandering and replaying in the middle of the night, or playing out possible scenarios to all kinds of situations that haven't even happened. Anxiety, fear, and worry happen to us all. In the midst of how you're feeling, it always helps to remember the facts. There is hope for the anxious heart.
Feeling worried? Remember what Jesus asked the disciples in Luke 12: "Consider the ravens: for they neither sow nor reap; which neither have storehouse nor barn; and God feedeth them: how much more are ye better than the fowls? And which of you with taking thought can add to his stature one cubit? If ye then be not able to do that thing which is least, why take ye thought for the rest?" (Luke 12:25-26) The only thing that worrying accomplishes is wearing you out. Jesus also said that we should, "Take therefore no thought for the morrow: for the morrow shall take thought for the things of itself. Sufficient unto the day is the evil thereof." (Matthew 6:34). When you're tempted to worry, take it to the Lord and He will give you peace (Philippians 4:6-7).
Beyond worry, fear is also a reality for many people. When Joshua became Moses's successor, it was a daunting task. He was commanded to "Be strong and of a good courage, fear not, nor be afraid of them: for the LORD thy God, he it is that doth go with thee; he will not fail thee, nor forsake thee." (Deuteronomy 31:6) Or consider David, who penned Psalm 34 from the cave of Adullam while fleeing Saul. In the midst of his fears, David said, "I sought the LORD, and he heard me, and delivered me from all my fears." (Psalm 34:4) "Say to them that are of a fearful heart, Be strong, fear not: behold, your God will come with vengeance, even God with a recompence; he will come and save you." (Isaiah 35:4)
Hope for the anxious heart is never too far away, in fact, God promises us that He is always with us (Isaiah 41:10) and He will never abandon us (Hebrews 13:5-6). "In the multitude of my thoughts within me thy comforts delight my soul." (Psalm 94:19) What are God's comforts? His love is eternal, His promises are never broken, and He is the surety of our salvation. As Thomas Horton said, "The little world within us is, like the great world without full of confusion and strife; but when Jesus enters it, and whispers "Peace be unto you," there is a calm, yea, a rapture of bliss. Let us turn away from the mournful contemplation of the oppression of man and the present predominance of the wicked, to that sanctuary of pure rest which is found in the God of all comfort."
Originally published as "Hope for the anxious heart." Minto Express, Independent Plus, Arthur Enterprise-News, Mount Forest Confederate. November 8, 2018: 6. Print. Web.