Written by H, Posted in Christian Living, Published Work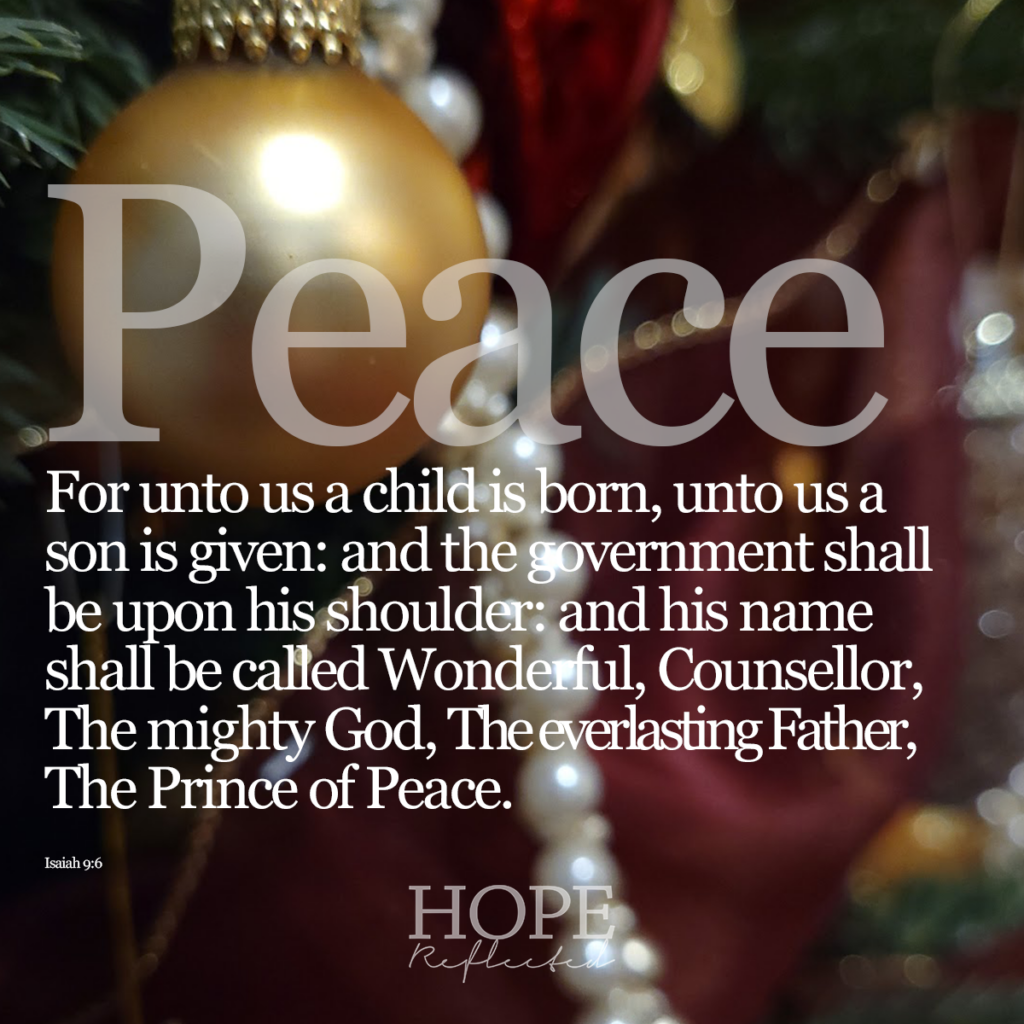 Another theme of Advent is peace, and what better time for peace than a season that for some seems to have anything but.
Peace is not something that happens when we are passive; peace is something that happens when we remember our position. We are under the authority of the Prince of Peace, and we have peace when we live out His purpose for us. He is our Provider, and He gives real peace.
Subjects of The Prince of Peace
Throughout history, everyone has been the subject of some kind of ruler, from Kings and Queens to Princes and Princesses, Prime Ministers and Presidents to Governors and Senators. It's expected that any citizen of a country has their allegiance therewith. At Christmas, we are reminded that just as there are earthly rulers, there is one Creator and Ruler over all. He came to earth so that we might know Him. "For unto us a child is born, unto us a son is given: and the government shall be upon his shoulder: and his name shall be called Wonderful, Counsellor, The mighty God, The everlasting Father, The Prince of Peace." (Isaiah 9:6).
Matthew Henry wrote of Jesus that "He is the prince of peace. As a King, he preserves the peace, commands peace, nay, he creates peace, in his kingdom. He is our peace, and it is his peace that both keeps the hearts of his people and rules in them. He is not only a peaceable prince, and his reign peaceable, but he is the author and giver of all good, all that peace which is the present and future bliss of his subjects."
Pursuing after real peace
So many people become subjects of the commercialization of Christmas, falsely thinking that pursuing after price tags and parties and popular gifts will provide some parallel of peace. What they don't realize is that God provides peace to those who pursue after Him, not to those who pursue after appearances. The peace of God that we read about in Colossians 3:15 is possible when we know the God of peace.
When we look at all the "perfect" Christmas card photos, decorated homes, and the abundance of gifts and giving that others have going for them, suddenly Christmas can be a time when our own imperfections are highlighted. But it doesn't have to be that way.
When we put our passion into pursuing after The Prince of Peace, rather than into making our own Christmas "perfect", that's when we will find true peace. The prophet Isaiah wrote that God "wilt keep him in perfect peace, whose mind is stayed on thee: because he trusteth in thee." (Isaiah 26:3).
Peace, no matter what is happening
Contrary to what the world would have you think, Christmas isn't about buying the most expensive gifts, or putting together the prettiest highlight reel, or even having the most beautiful table setting. Christmas is about focusing our hearts and thoughts on that first Advent of Christ, and having peace because—no matter what is happening in the world around us—He's coming again.
Originally published as "A season for those pursuing peace." Independent Plus. December 15, 2022: 5. Print. Web.