Peace is possible
Written by H, Posted in Christian Living, Published Work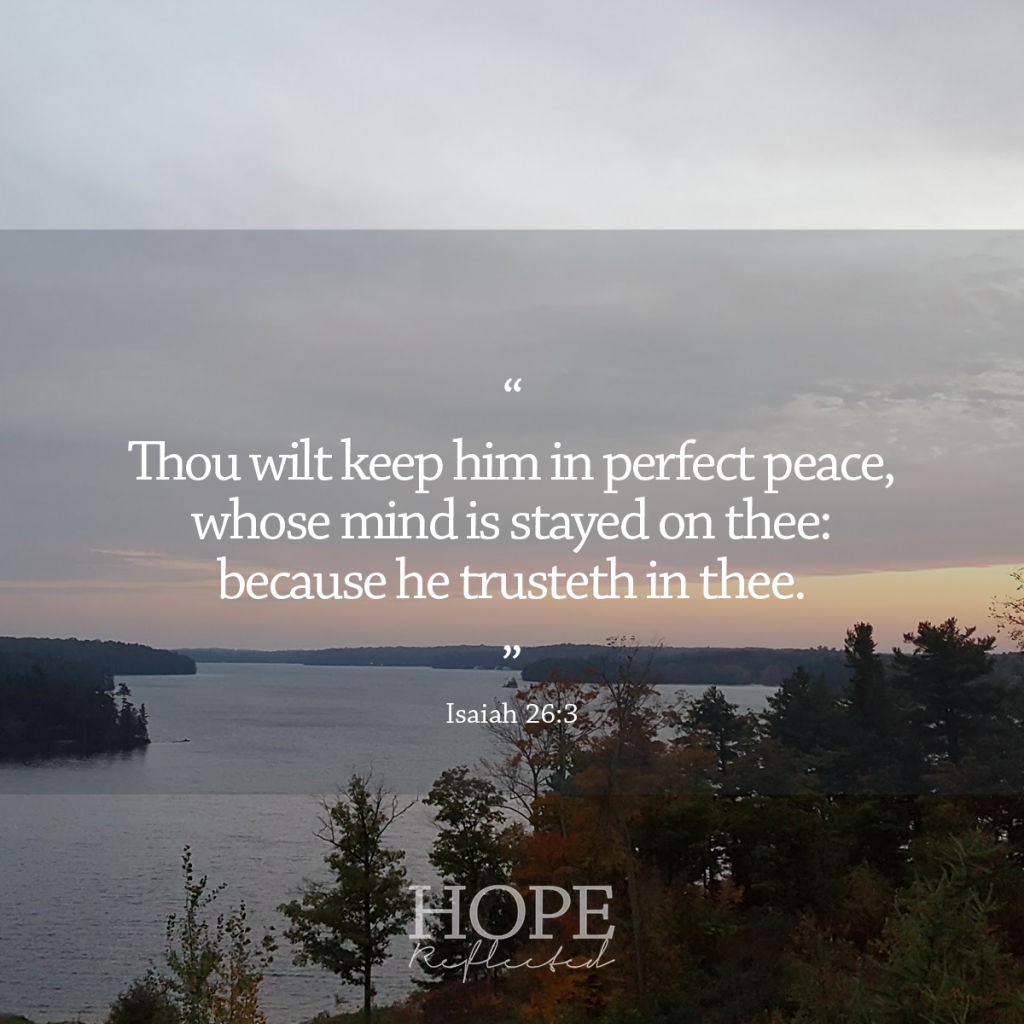 Peace is one of God's promises
It's no wonder we experience anxiety, worry, and insecurity. We have a tendency to focus on ourselves: Our capabilities, our strength, our power. We are quick to forget that we are finite beings. Focusing on ourselves to find security is exactly what leads to our insecurity! Isaiah wrote, "Thou wilt keep him in perfect peace, whose mind is stayed on thee: because he trusteth in thee." (26:3) Peace is possible when God is our focus. Matthew Henry said that, "Whatever we trust to the world for, it will last only for a moment; but those who trust in God shall not only find in Him, but shall receive from Him, strength that will carry them to that blessedness which is for ever. Let us then acknowledge him in all our ways, and rely on him in all trials." David wrote in Psalm 112:7-8 that the man whose heart is fixed and established, trusting in the LORD, "He shall not be afraid of evil tidings." Peace is not an exemption from the trials of this life, but when God is our focus, peace is possible as we go through the trials of this life.
Peace through prayer
Peace is also possible when God is our go-to and prayer is our first response. Paul wrote in his letter to the Philippians, "Be careful for nothing; but in every thing by prayer and supplication with thanksgiving let your requests be made known unto God. And the peace of God, which passeth all understanding, shall keep your hearts and minds through Christ Jesus." (Phil. 4:6-7) Paul wrote these words from prison, and he is proof that peace is possible when prayer is our first response. Oswald Chambers once said "we tend to use prayer as a last resort, but God wants it to be our first line of defense. We pray when there's nothing else we can do, but God wants us to pray before we do anything at all." If we want peace, we have to remember to pray.
Peace because God has the preeminence
Peace is possible because God has the preeminence. "Be still, and know that I am God: I will be exalted among the heathen, I will be exalted in the earth." (Psalm 46:10) We spend a lot of time fretting and worrying, which in effect is saying we don't trust God with the outcome of our problems. When we worry, we're trying to be in control of the situation, and we often miss out on the peace that comes from remembering that God is in control. He is the Creator of the universe; do you really think that you know better than He does? David wrote in Psalm 139:17-18, "How precious also are thy thoughts unto me, O God! How great is the sum of them! If I should count them, they are more in number than the sand: when I awake, I am still with thee." God will ordain peace for us because it is God Who has wrought all our works in us (Isaiah 26:12).
"God cannot give us a happiness or peace apart from Himself, because it is not there. There is no such thing." (C.S. Lewis) Peace is not just possible; it is one of God's promises. "Peace I leave with you, my peace I give unto you: not as the world giveth, give I unto you. Let not your heart be troubled, neither let it be afraid." (John 14:27)
Originally published as "Peace is possible." Minto Express, Independent Plus, Arthur Enterprise-News, Mount Forest Confederate, Walkerton Herald-Times. September 5, 2019: 7. Print. Web.