One of the most practical ways we can help
Written by H, Posted in Christian Living, Published Work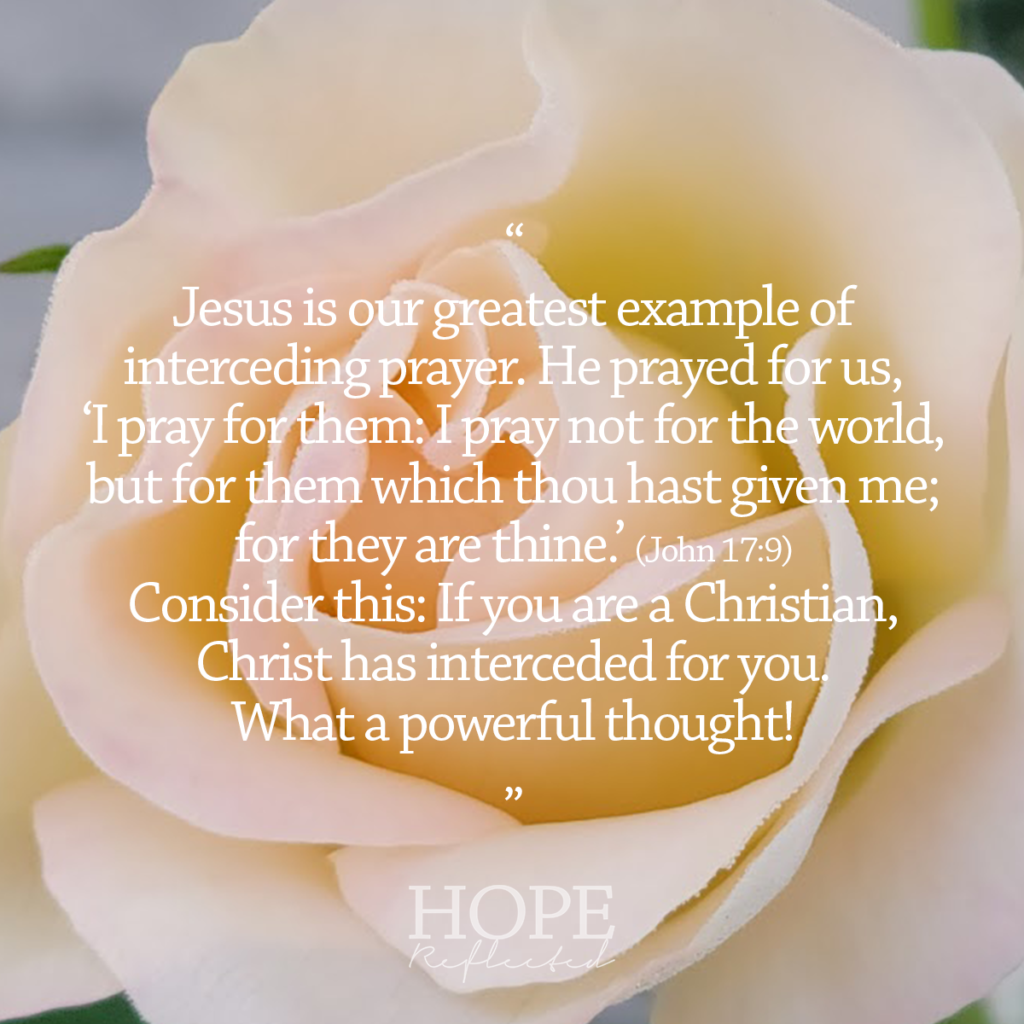 "I pray for you every night."
Some of the most encouraging words are when someone shares that they are praying for you. Prayer offered up on the behalf of another is powerful. Paul wrote in 1 Timothy 2:5, "For there is one God, and one mediator between God and men, the man Christ Jesus;". Jesus is our greatest example of interceding prayer, when He prayed for us, "I pray for them: I pray not for the world, but for them which thou hast given me; for they are thine." (John 17:9). My Grandmother once wrote of this verse, "This means Christ prayed for me that day." Consider this: If you are a Christian, then Christ has interceded for you. He has spoken your name to God the Father and taken your needs before Him. What a thought!
Interceding prayer is purposeful and persistent
Take Abraham's prayer for Sodom, for example. We're told in Genesis 18 that Abraham stood before the Lord, and "drew near" (v. 23). He wasn't aloof, he didn't head with the other men toward Sodom; he purposefully drew near to the Lord and prayed. He pleaded with the Lord on Sodom's behalf. Abraham was both engaged and confident that the Lord would hear him. Matthew Henry said, "In the word God speaks to us; in prayer we speak to him… God's word then does us good when it furnishes us with matter for prayer and excites us to it." When was the last time we were excited for prayer, especially praying for one another?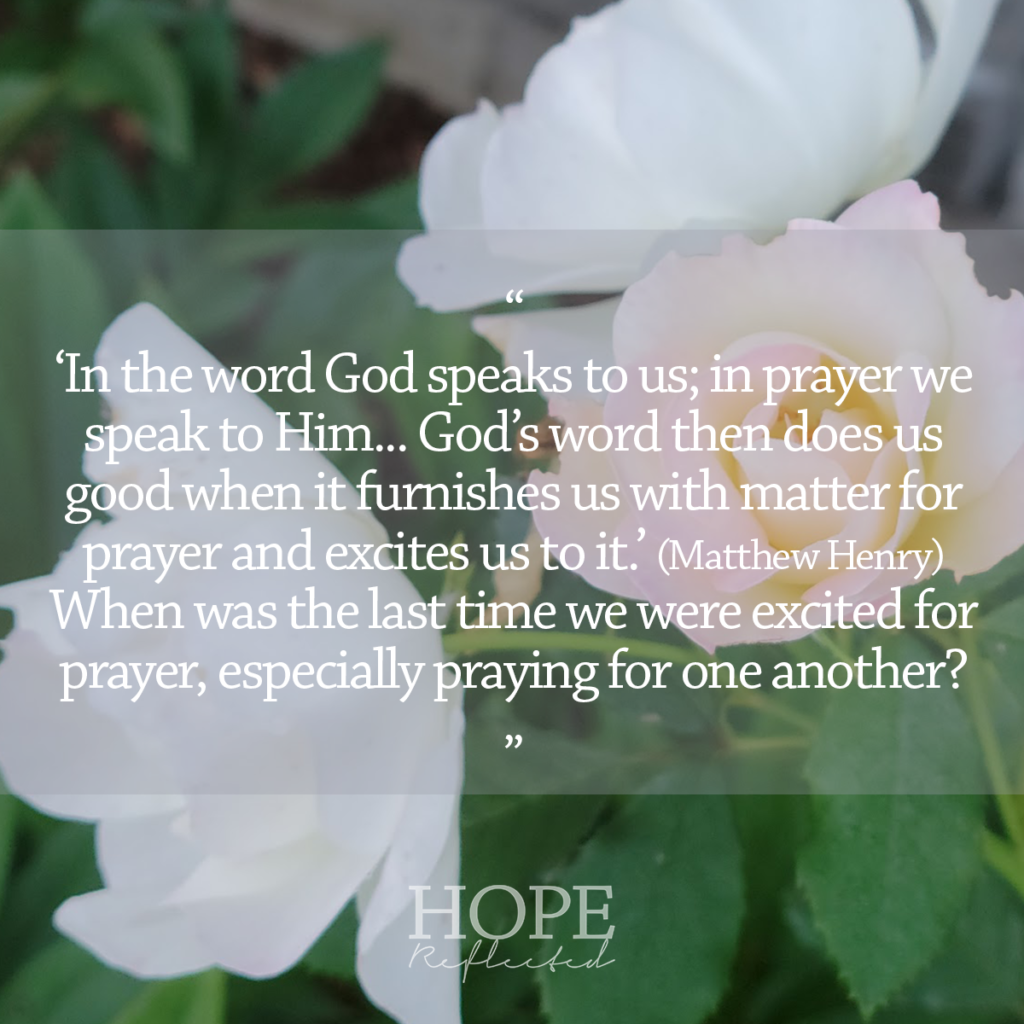 Understand one another's needs and requests
My niece and nephew have been praying specifically for months that our baby will sleep through the night, and the Lord hears their prayers. When we see God working, that should excite us to pray more! Interceding prayer is personal and particular. An example of this is the prayer of Abraham's servant in Genesis 24, and David's prayer for his son Solomon in 1 Chronicles 29. David prays that the Lord will give Solomon "a perfect heart, to keep thy commandments… and to build the palace," (v. 19). Matthew Henry said, "God's providence extends itself to the smallest occurrences and admirably serves its own purposes by them." God cares about each and every detail, so we ought to be particular when we're praying for one another. Sometimes the very things we think don't matter, matter to God.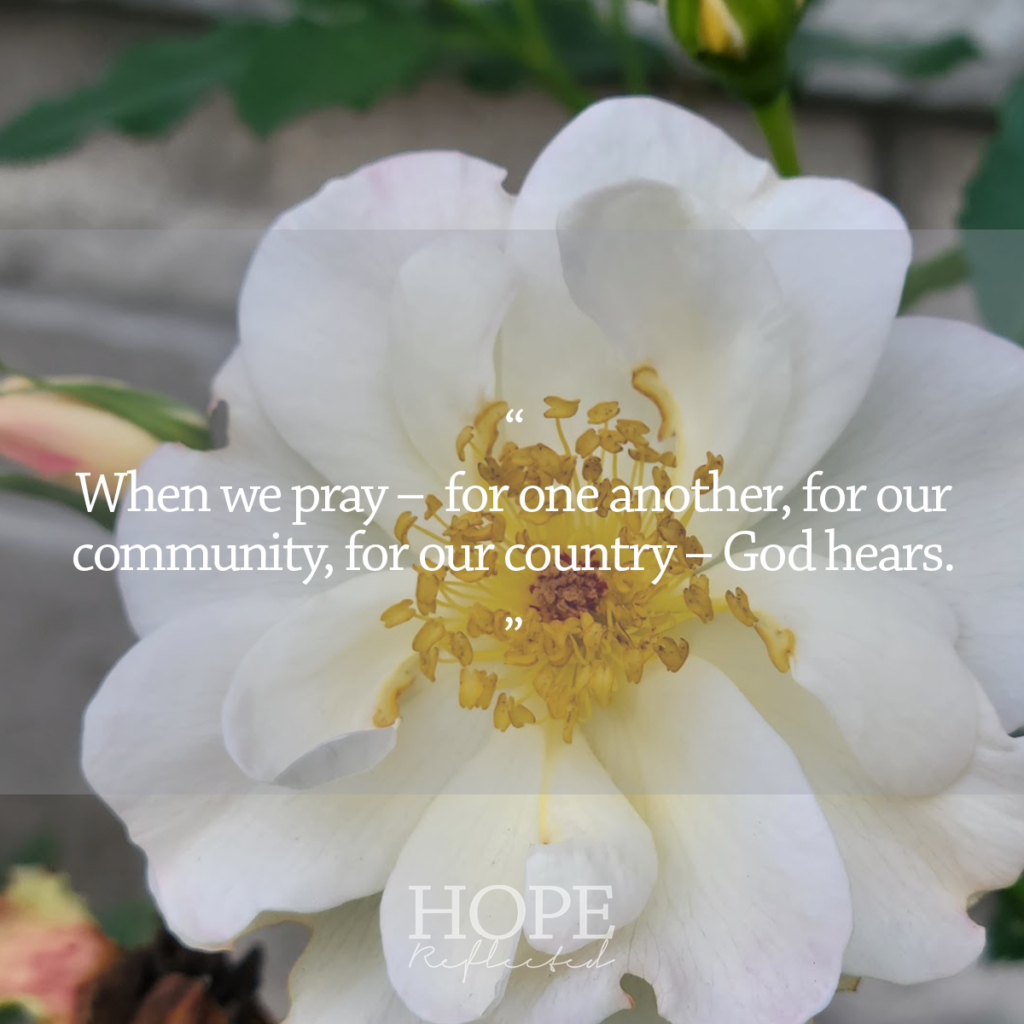 Interceding prayer is powerful. In Exodus 17, when Amalek fought with the children of Israel, Moses stood on the top of the hill and prayed. When Moses held up his hand, Israel prevailed, and when he let down his hand, Amalek prevailed (v. 11). Aaron and Hur interceded and helped hold up Moses's hands and Israel ultimately triumphed. When we pray – for one another, for our community, for our country – God hears. "The effectual fervent prayer of a righteous man availeth much," James wrote in his eponymous epistle (James 5:16). Prayer is one of the most powerful and practical ways that we can help each other.
Originally published as "One of the most practical ways we can help." Independent Plus. April 15, 2021: 5. Print. Web.