A season for anyone afraid of the future
Written by H, Posted in Christian Living, Published Work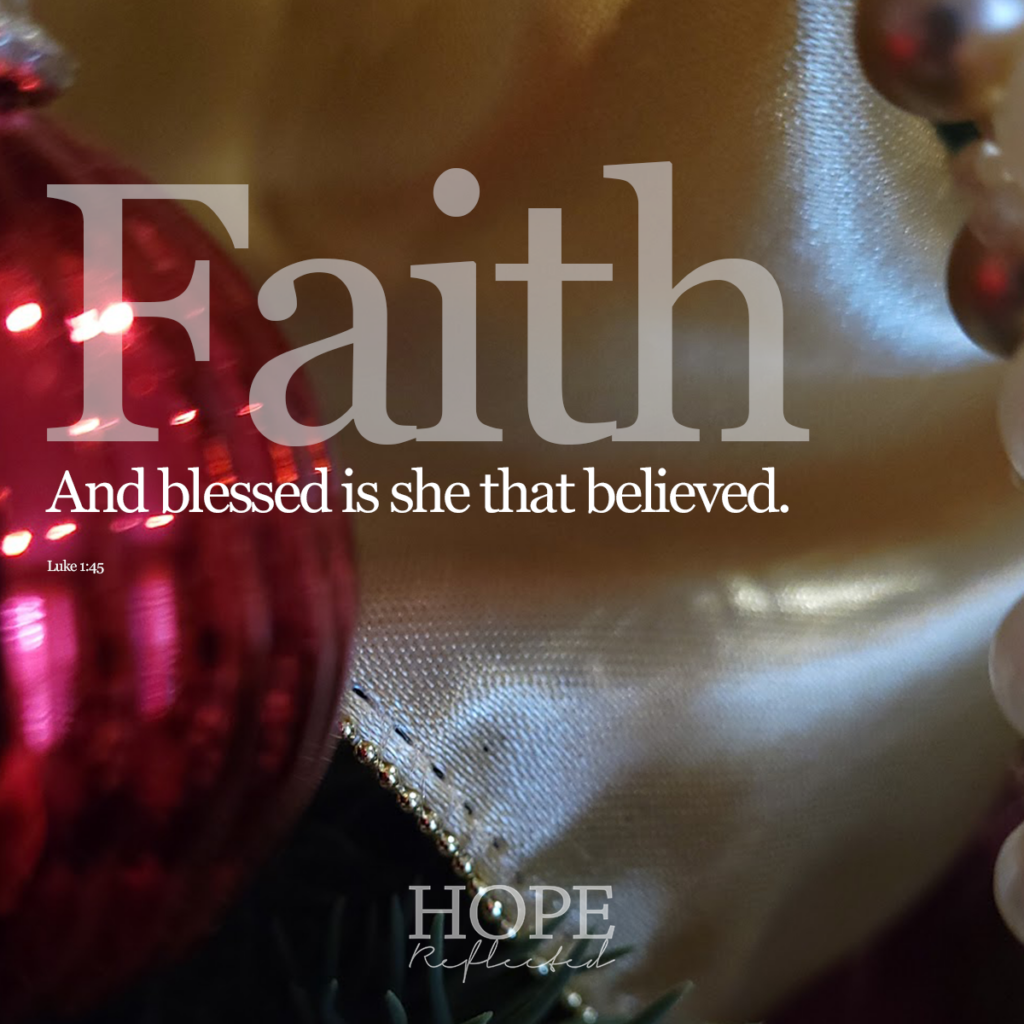 The first week of Advent traditionally focuses on the theme of hope: The Hope of fulfilled Scripture, the Hope of Christ's birth, the Hope of Christ's second coming, the Hope that came to earth for you and for me.
As we continue our Advent journey through its second week, another of the themes of this wonderful season is faith. Just as we cannot have Christmas without hope, we also cannot have Christmas without faith. Hope and faith are part and parcel.
A season for anyone who is afraid of the future
As much as Christmas is a season for the hopeless, the grieving, the lonely, and the sad, Christmas is also a season for anyone who is afraid of the future. Perhaps you find yourself afraid of the uncertainty that you're feeling this season, questioning who you'll spend Christmas with, what the New Year will bring, why you're all alone, or how come you're the only person who feels this way. Feeling afraid? You are not alone!
Right there, in that first chapter of Luke, at the beginning of Christ's Advent history, we see this example of a woman who was—at least to start—more fearful than faith-filled, but who finished faithful rather than fear-filled.
Mary, the mother of Jesus, when the angel Gabriel came to visit her, was afraid. "And when she saw him, she was troubled at his saying, and cast in her mind what manner of salutation this should be." (Luke 1:29). Mary had questions. She was anything but confident, but ultimately Mary chose faith over fear, saying "Behold the handmaid of the Lord; be it unto me according to thy word." (Luke 1:38).
Faith must be first
"Faith is the art of holding on to things your reason has once accepted, in spite of your changing moods." C.S. Lewis wrote in Mere Christianity. To grow any kind of faith, we must hold on and move through fear. Just as hope and faith go hand-in-hand, we can expect that for us to grow any kind of meaningful faith means that we must first face and uproot all kinds of fear and other unfavourable feelings.
To hear that "blessed is she that believed" (Luke 1:45), we must put faith first. That doesn't mean that we won't ever experience uncertainty or that we'll never feel afraid, quite the contrary: We will, it just means that we don't give those feelings first place. Faith must be first and always at the forefront, over fear and other feelings.
Matthew Henry wrote that "Faith respects the thing to come, which is the object of that hope. Faith respects the promise, hope the thing promised. Faith is the evidence, hope the expectation, of things not seen. Faith is the mother of hope." Christ's birth, His second coming, His coming to earth for you and for me—and Christ Himself.
Advent is the time where we grow our faith and abide in hope that things will not always be like this, that there is a better day to come, that Christ will make His triumphant return.
Originally published as "A season for anyone who is afraid of the future." Independent Plus. December 8, 2022: 5. Print. Web.