Wednesday Wisdom | When you love what you have, you have everything you need
Written by H, Posted in Christian Living, Wednesday Wisdom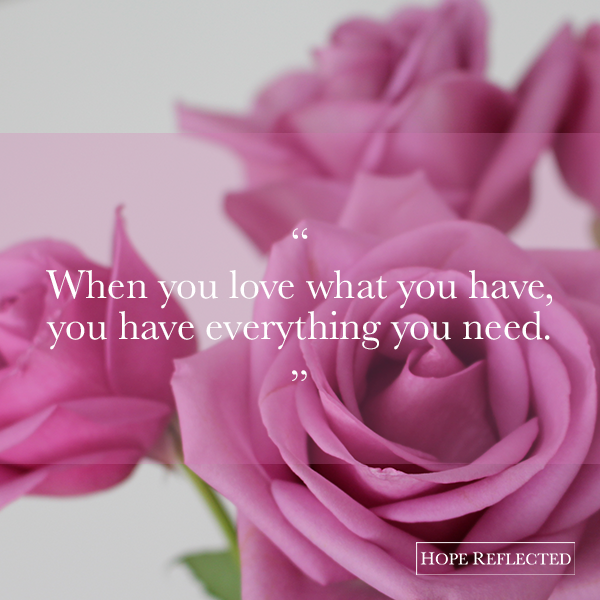 "When you love what you have, you have everything you need."
In my column, "Some Habits Are Actually Good," I talked about learning to be content with yourself. You learn contentment when you make the choice to stop comparing yourself to others and competing with others. The grass isn't greener on the other side; the grass is greenest where you water it.
You learn contentment when you continually give thanks and practice an attitude of gratitude.
You learn to love what you have when you're content.
So what does the Bible say about contentment and gratefulness?
"I know how to be abased, and I know how to abound. Everywhere and in all things I have learned both to be full and to be hungry, both to abound and to suffer need. I can do all things through Christ who strengthens me." Philippians 4:12-13
"Keep your lives free from the love of money and be content with what you have, because God has said, "Never will I leave you; never will I forsake you." Hebrews 13:5
"But godliness with contentment is great gain. For we brought nothing into the world, and we can take nothing out of it." 1 Timothy 6:6-7
"Then he said to them, 'Watch out! Be on your guard against all kinds of greed; life does not consist in an abundance of possessions.'" Luke 12:15
"In every thing give thanks: for this is the will of God in Christ Jesus concerning you." 1 Thessalonians 5:18
"Know ye that the LORD he is God: it is he that hath made us, and not we ourselves; we are his people, and the sheep of his pasture. Enter into his gates with thanksgiving, and into his courts with praise: be thankful unto him, and bless his name." Psalm 100:3-4
"So you shall rejoice in every good thing which the Lord your God has given to you and your house," Deuteronomy 26:11
"The LORD has done great things for us; we are glad." Psalm 126:3
"Oh give thanks to the LORD, for he is good; for his steadfast love endures forever!" Psalm 118:1
There are so many verses throughout the Bible about contentment and gratefulness. The key to contentment is living with an attitude of gratitude, and the key to loving what you have is learning contentment!
"When you love what you have, you have everything you need."