Wednesday Wisdom: Proverbs 4:26
Written by H, Posted in Christian Living, Wednesday Wisdom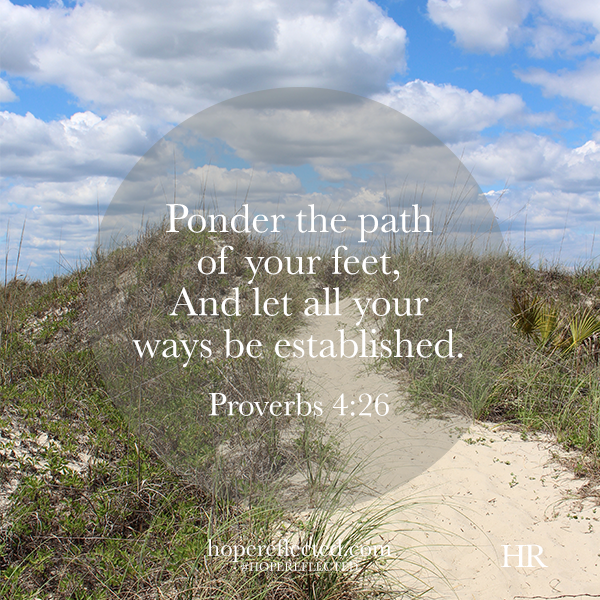 "Ponder the path of thy feet, And let all your ways be established." Proverbs 4:26
The book of Proverbs is full of great advice, which still resonates thousands of years after its original publication. Proverbs 4:26, which says, "Ponder the path of thy feet, And let all your ways be established," is a statement which may seem simple, but contains some very practical advice.
You've heard the saying, "Your actions speak louder than words." The first part of Proverbs 4:26 is a timely reminder to us that we should consider our ways before we act.
The second part of Proverbs 4:26, "And let all your ways be established," is saying that we should make sure our actions are set, fixed, acceptable, even habitual. The decisions that we make should be reflective of our Faith. The direction in which we choose to take our life should be honouring to the Lord.
If you're worried about the path before you not being clear or not knowing what way God wants you to go, remember these verses:
"Thy word is a lamp unto my feet, and a light unto my path." Psalm 119:105
"Cause me to know the way in which I should walk, For I lift up my soul to You." Psalm 143:8
"Trust in the LORD with all thine heart; and lean not unto thine own understanding. In all thy ways acknowledge him, and he shall direct thy paths." Proverbs 3:5-6
When in doubt, get into God's Word.