Hope, She Wrote: Jumpstart Your Joy
Written by H, Posted in Christian Living, Hope's How-To, Published Work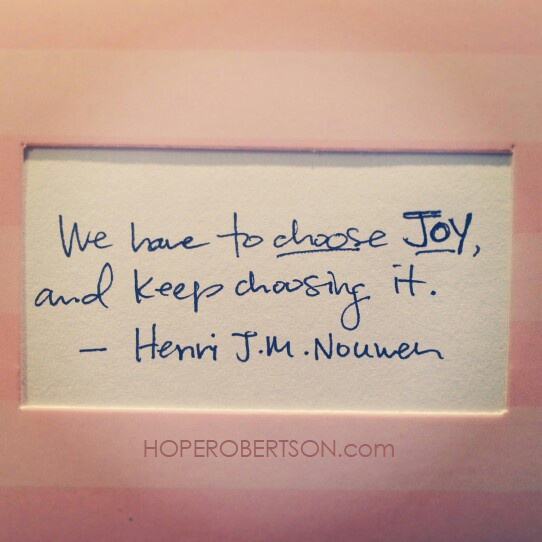 Having a consistently positive attitude can be incredibly difficult, especially when it's so easy to get caught up in our day-to-day circumstances. In my latest column for The Minto Express, I discuss ways to jumpstart your joy, and get on the road to a more consistent, joyful heart attitude.
The winter can be a difficult time, with the shorter days, grey skies, and cold weather. (Seasonal Affective Disorder is a real thing, people!) I don't think I'm alone when I say that there are definitely days when hibernation seems like it would've been a good idea.

So what can you do to jumpstart your joy? The great thing about joy is that it's a constant, and a deliberate choice you get to make each day: Joy is not dependent on your present circumstances or your mood, because true joy comes from within. Joy is something that starts with your heart attitude.

You might think that jumpstarting your joy could be the happiness you experience when you buy a new pair of boots, or that feeling you get when you score some cute clothes at an incredible half-off sale at your favourite store, but here's something many don't often think of: Joy and happiness are two entirely different things.

Happiness by definition is a state of well-being or a pleasurable or satisfying experience. Joy (which comes from the word "rejoice") is to be glad and content. Happiness is always the result of a circumstance or something happening around you, whereas joy is the consistent, content heart attitude that is unaffected by your surrounding circumstances or happenings.

For example, if you have a really bad day at work, or you get a mustard stain on your favourite white skinny jeans (hey, it happens), or you receive disappointing news – you wouldn't be happy, right? But, throughout these circumstances, you can still choose joy. It doesn't mean that you walk around with a dopey smile on your face all the time, it just means that you have perspective, and that your source of contentment comes from inside, not from outside.

Some simple ways to jumpstart your joy:

make a list of the things that you're thankful for in life
 forgive someone who's wronged you
volunteer with an organization that helps others
provide for another's need
listen to a friend
pray

Do you see a theme with jumpstarting your joy? One of the key components of joy is putting others first. When I was younger, there was this song we used to sing in Sunday School, called, "JOY" and it was an acronym for "Jesus first, Others second, Yourself third" And that's totally true. When you stop looking in, and you start looking up and out (by putting others first), the results are powerful and can have major impact on your life.

There's a quote by the writer Henri J.M. Nouwen that gives some pretty sound advice: "Joy does not simply happen to us. We have to choose joy and keep choosing it every day." Choose joy!
Robertson, Hope. "Jumpstart Your Joy." Minto Express 26 February 2014: 5. Print.