Hope Reflected: 3 Reasons to Start Doing Devotions – Devotions in the Christian Faith
Written by H, Posted in Christian Living, Published Work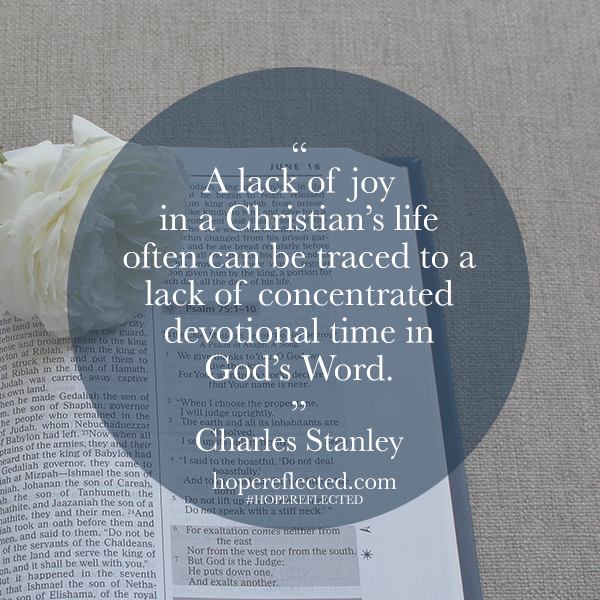 Charles Stanley once said that "a lack of joy in a Christian's life often can be traced to a lack of concentrated devotional time in God's Word."
You've heard the adage, "six pack abs start in the kitchen," and that's true. So much of our overall physical health depends just as much (or more!) on what we eat than it does on how much physical exercise we get. The same can be said of our spiritual health. The condition of our spiritual life depends just as much or more on the time we spend in God's Word, – the Bible, – and how much time we spend meditating on Him, than it does on how much time we spend trying to encourage others and think positive.
Devotional time. What are devotions in the Christian faith? By definition, devotion is "love, loyalty, or enthusiasm for a person, activity, or cause." Having a time of devotion or doing devotions is, in its simplest form, when you set aside time each day to get into the Bible to learn about God, and focus on Him. Devotions usually involve a reading from the Old Testament, New Testament, as well as the Psalms and Proverbs. Devotions typically focus on improving and growing our knowledge of the Lord and our relationship with Him, and most include a time of prayer.
Devotions are important to the Christian faith for several reasons, and here are three areas that devotions have especially impacted my life:
Devotions help get my heart in the right place. As the Psalmist David said in Psalm 139:23-24 (KJV), "Search me, O God, and know my heart: try me, and know my thoughts: And see if there be any wicked way in me, and lead me in the way everlasting." A successful relationship is not a one-way street. A relationship with God isn't just me trusting in Him so nothing bad will ever happen or because I think it will benefit me. As a Christian, I have to pursue Him; I have to approach Him in reflection and with an open heart so that I can hear what God's trying to teach me through His Word.
Devotions help me slow down. Psalm 46:10 (KJV) says, "Be still, and know that I am God;" I can't be still unless I take the time to slow down. Being still is a big part of a successful devotional time. Too often I find that if I'm in a rush or thinking ahead about everything that I have to accomplish today, my devotional time won't be as meaningful and I won't get as much out of it. Take time to really slow down; take time to "lie down in green pastures" (Psalm 23:2).
Devotions help me grow by highlighting areas in my life that need correction. Psalm 26:2 (KJV) says, "Examine me, O LORD, and prove me; try my reins and my heart." Only God truly knows the intention of each heart, and asking Him to examine my heart helps me to keep things real and reveals that I am in desperate need of His help in every area of life. Proverbs 21:2 (KJV) says that "Every way of a man is right in his own eyes: but the Lord pondereth the hearts.
If you're looking to start a devotional time each day, a great place to begin is in the Psalms or Proverbs. There's so much wisdom even just in these two books. There are 31 Proverbs, which is fitting to each day of the month, so you could choose to start today and read one Proverb each day throughout the month. A similar practice can be done with the Psalms. However you decide to do your devotions, the important part is getting started – God will speak to your heart if you're open to hearing Him and what He has to say through His Word!
Originally published as "3 Reasons to Start Doing Devotions – Devotions in the Christian Life." Minto Express. June 15, 2016: 5. Print.