Hope Reflected: Choose Faith Over Fear
Written by H, Posted in Christian Living, Published Work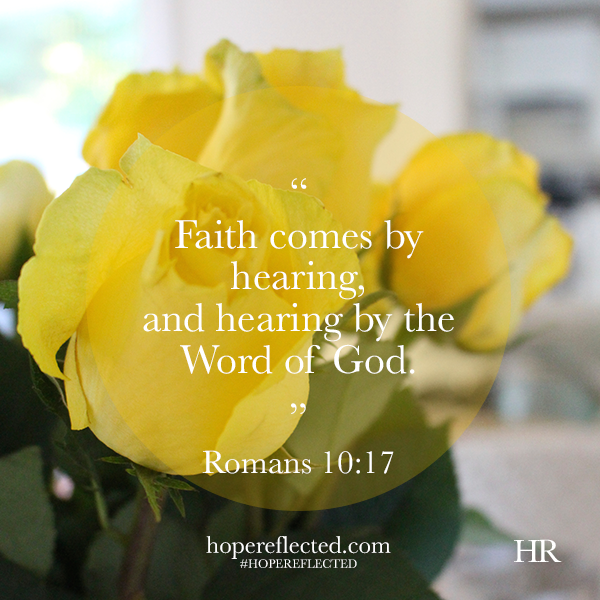 Have you ever been in a season of life where you face an unknown future? Perhaps you're starting at a new school, or starting a new job, or maybe even making a career change. Maybe you're facing health issues, or moving to a new town. One of the realities of life is that we will all face seasons of change. Many thoughts can run through our minds when embarking on a new journey, and it's in those times of uncertainty that we all need to be reminded to choose faith over fear.
Have you ever tried mixing oil and water? Or, fellow food lovers, what about mixing extra virgin olive oil and balsamic vinegar? Notice how they just don't jive? Olive oil is less dense than vinegar, so it always floats to the top. Try as you might, you can't mix the two together. The same thing can be said of faith and fear. Bob Proctor said it like this: "Faith and fear both demand you believe in something you cannot see. You choose!"
Last week at Clifford Community Church, Reverend Bott painted a picture in his sermon about the children of Israel and how close they came to entering the promised land… before spending forty years wandering through the wilderness. God doesn't want us to stay stagnant in the wilderness; but we have to put our faith in Him in order to move forward! Sometimes it's hard, but I know I'd rather choose a future and a hope through faith than anxiety and worry through fear!
By definition, faith is complete trust or confidence in someone or something. In the Bible, we learn a lot more about faith than just a dictionary definition, however. We see faith in action all through God's Word, and we're introduced to so many men and women who chose faith over fear and experienced God's amazing blessings.
From my own experience, here are three facts I know to be true about faith:
Faith is powerful. Hebrews 11:1 states that "faith is the substance of things hoped for, the evidence of things not seen." When we put our faith and hope in God, and His best, we eliminate any unbelief or feelings of fear. You can't have fear when you've got faith – what a powerful thought! At one of the lowest points of his life, when he was caught by the Philistines at Gath, David said, "What time I am afraid, I will trust in thee." (Psalm 56:3) If you're feeling fearful or afraid, put your faith in God. He will see you through. If He brings you to it, He can bring you through it! And it's through facing our fears head on that we defeat them and grow our faith.
Faith is a gift. Ephesians 2:8-9 says, "For by grace are ye saved through faith; and that not of yourselves: it is the gift of God: Not of works, lest any man should boast." You may know people who have a super-strong faith that seems rock solid. And guess what? Faith isn't just reserved for certain people. Faith is a gift from God that can be yours, too! As a result of a personal relationship with Jesus Christ, you'll start to grow the fruits of the Spirit, including faith! You can go to church, get baptized, be a good person, even give money away, but none of it means anything unless you accept God's gift of salvation. Faith is a gift; God's grace is a gift.
Faith is something we learn. Romans 10:17 tells us that "faith comes by hearing, and hearing by the Word of God." An unshakable faith isn't just something that happens to us when we come to know the Lord; faith is something we learn and develop when we dig into God's Word. The more time we spend feeding our souls in the Bible, the less time we spend feeding fear and worry. When Joshua replaced Moses as leader over the children of Israel, he was reminded and encouraged to stay in God's Word: "This Book of the Law shall not depart from your mouth, but you shall meditate in it day and night, that you may observe to do according to all that is written in it. For then you will make your way prosperous, and then you will have good success. Have not I commanded you? Be strong and of good courage; do not be afraid, nor be dismayed, for the LORD your God is with you wherever you go." Faith is something we have to grow, and we can't grow our faith if we don't spend time in the Bible each day!
Hebrews 11:6 says, "But without faith it is impossible to please him: for he that cometh to God must believe that he is, and that he is a rewarder of them that diligently seek him." Wherever you are today, you've got the option to choose faith over fear. Like oil and vinegar, faith and fear don't mix. As Greg Laurie says: "Where fear reigns, faith is driven away. But where faith reigns, fear has no place."
Originally published as "Choose Faith Over Fear." Minto Express. October 19, 2016. 5: Print.