God's Faithfulness
Written by H, Posted in Christian Living, Published Work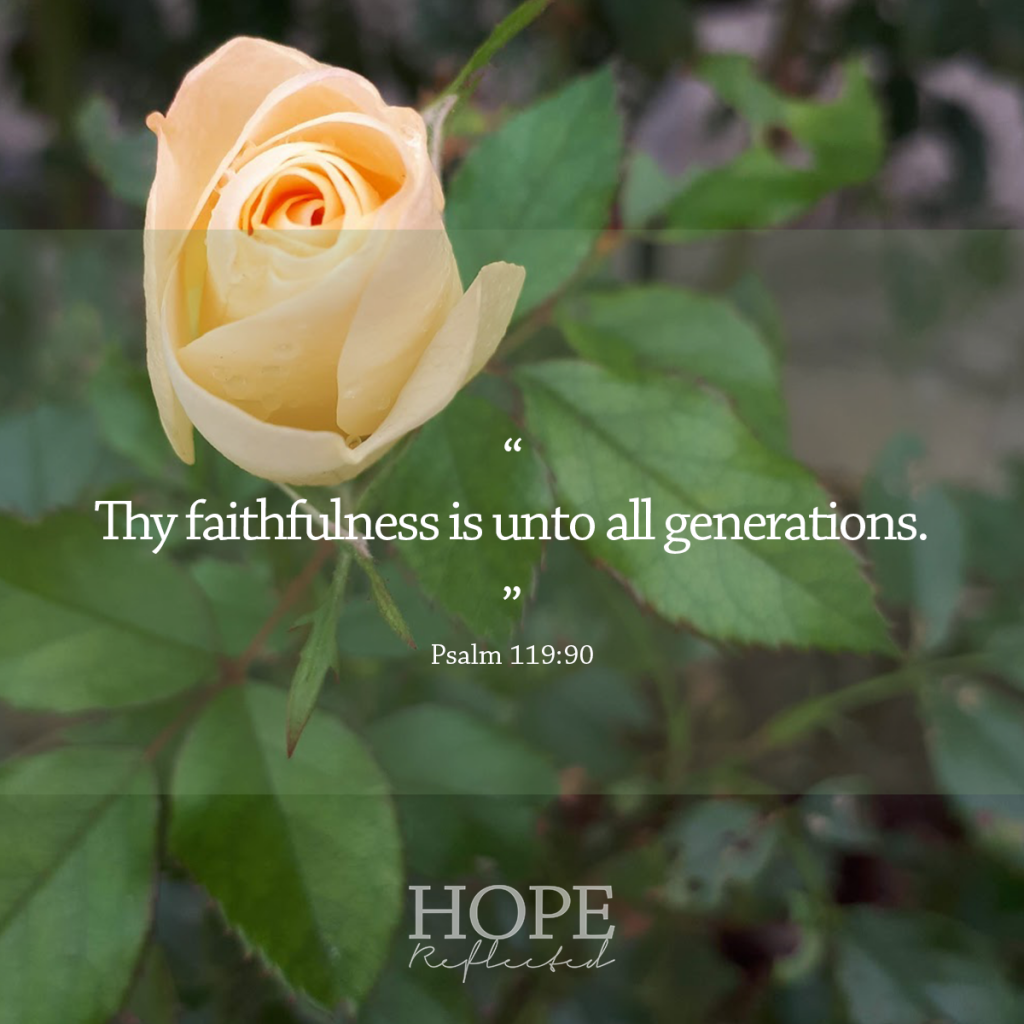 There are no limits to God's faithfulness
Sometimes we will feel afraid (Psalm 56:3), sometimes we will feel alone and afflicted (Psalm 25:16), and sometimes we will feel brokenhearted and crushed (Psalm 34:18). The Bible contains some truths that make us uncomfortable, including about our own behaviours and human nature.
God's faithfulness is an enduring melody
One thing that should provide us with great comfort, however, is that in the midst of all our feelings, God's faithfulness is an enduring melody, and a predominant theme in every part of the Bible. Faithfulness, defined as the quality of being faithful, loyal, or truth (the word faithfulness comes from the Old English word for truth), is referenced many times throughout the Bible.
In the midst of our feelings, it helps to remember the facts. God is bigger than any feeling we could feel, and God is greater than any situation we could ever find ourselves in. The next time you're afraid, feeling insecure, and you long to be reminded that God will never forsake you, consider what the Bible says about God's faithfulness.
His faithfulness is great and endures forever
God's faithfulness is great. "It is of the LORD's mercies that we are not consumed, because his compassions fail not. They are new every morning: great is thy faithfulness." (Lamentations 3:22-23)
God's faithfulness is forever. "Thy faithfulness is unto all generations: thou hast established the earth, and it abideth." (Psalm 119:90) You can look back through generations, and there is proof over and over again in the testimonies of the saints that God's truth endures forever. The Bible is filled with examples of God's faithfulness to His people. He will never let you down. "Thy mercy, O LORD, is in the heavens; and thy faithfulness reacheth unto the clouds." (Psalm 36:5) There are no limits to God's faithfulness.
Faithfulness is a part of God's character
"O LORD God of hosts, who is a strong LORD like unto thee? Or to thy faithfulness round about thee?" (Psalm 89:8) If you want to experience more of God's faithfulness, you've got to get closer to Him. Dig into His Word, commune with Him, and draw nigh to Him. Nothing compares to the faithfulness of God! He won't fail you. In fact, David – who penned Psalm 89 – goes on in that very Psalm to explain that God's faithfulness never fails. "Nevertheless my lovingkindness will I not utterly take from him, nor suffer my faithfulness to fail." (Psalm 89:33)
"Not one thing hath failed of all the good things which the LORD your God spake concerning you; all are come to pass unto you, and not one thing hath failed thereof." (Joshua 23:14) When life hits you head on, head straight to God's Word and He will reassure you of His faithfulness.
Find encouragement and learn more about God's faithfulness here.
Originally published as "God's faithfulness." Minto Express, Independent Plus, Arthur Enterprise-News, Mount Forest Confederate, Walkerton Herald-Times. July 25, 2019: 6. Print. Web.