Hope Reflected | Humility
Written by H, Posted in Christian Living, Published Work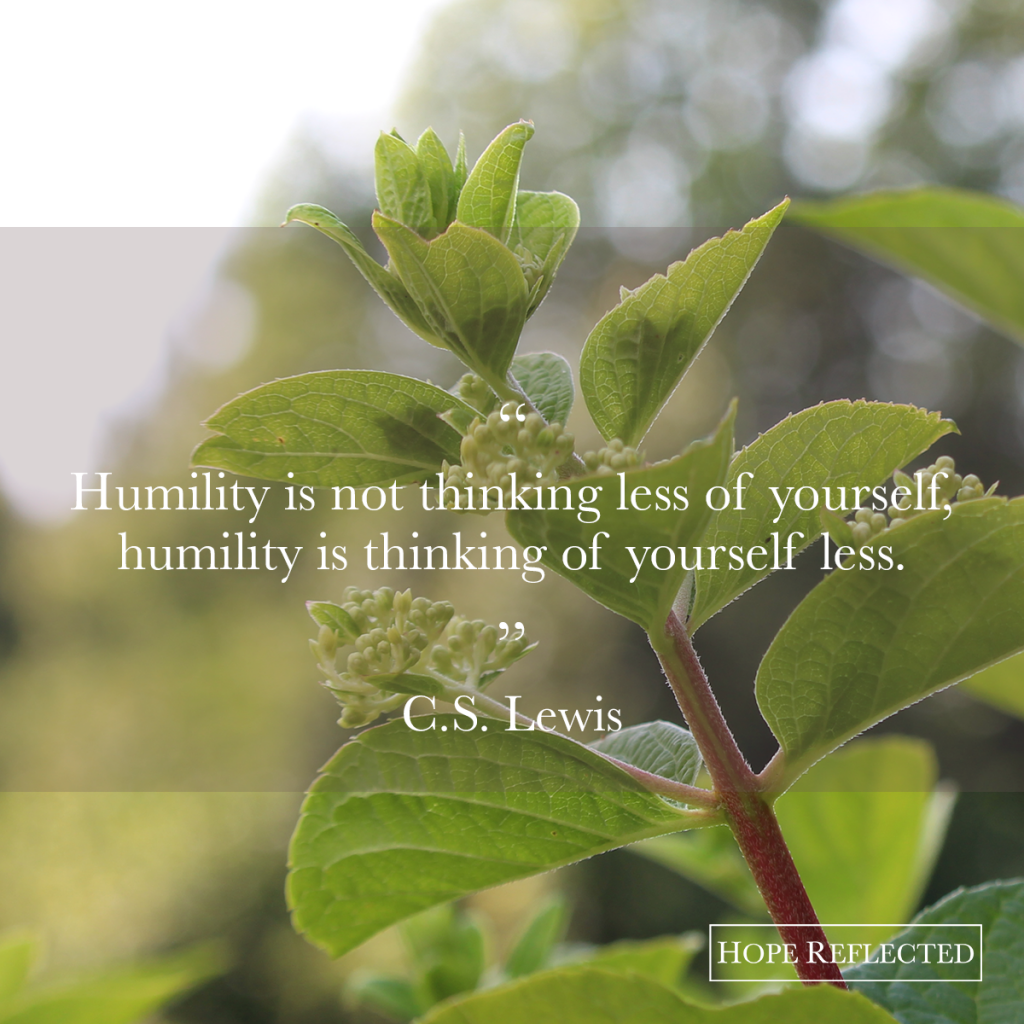 Humility
This week, as Wes and I were discussing the subject of humility and the many verses throughout the Bible that focus on the importance of being humble, I came across this acrostic from Living Free Indeed that is so amazing! I wanted to share it with you all along with some verses and thoughts on humility that really spoke to me.
H – Honouring God and others above yourself. "Let nothing be done through strife or vainglory; but in lowliness of mind let each esteem others better than themselves." (Philippians 2:3) You may have heard the Ezra Benson quote that says, "Pride is concerned with who is right; humility is concerned with what is right." It's so true! Humility pays more attention to what is right rather than who is right; humility is not a public show where you try to make yourself look good. Humility means to honour God and others above your own self.
U – Understanding your need for grace. "When pride comes, then comes shame; but with the humble is wisdom." (Proverbs 11:2) We all fall short – part of humility is recognizing this and means you're willing – and you want – to perform personal inventory of your heart.
M – Mourning over your sin. "Good and upright is the Lord; therefore he instructs sinners in his ways. He guides the humble in what is right and teaches them his way." (Psalm 25:8-9) We are all sinners. We all make mistakes, and for most of us, it happens several times each day! Part of humility is acknowledging and mourning our sin nature.
I – Illuminating God's glory. "Take my yoke upon you and learn from me, for I am gentle and lowly in heart, and you will find rest for your souls. For my yoke is easy and my burden is light." (Matthew 11:29-30) When we think of Jesus, we are quick to think of the Saviour of the world as filled with strength and power (which He is!). That being said, Christ is also meek, and humble. He humbled Himself in the ultimate way when He went to the cross and died for you and me.
L – Look for ways to serve others. "Serve one another humbly in love." (Galatians 5:13) Rather than focusing on yourself, look for ways to serve others. As C.S. Lewis said, "Humility is not thinking less of yourself, it is thinking of yourself less."
I – Ignore your pride and Satan's lies. "Before destruction the heart of a man is haughty, and before honour is humility." (Proverbs 18:12) Pride will get you looking at your life from a telescope while analyzing everyone else under a microscope. Pride will tell you that it matters who is right, not what is right. Pride will judge others rather than remembering that God sees the intentions of each heart.
T – Trust God's plan over your own. "Humble yourselves before the Lord, and He will lift you up." (James 4:10) God's plan may not always make sense, and guess what? It's not necessarily supposed to! (Isaiah 55:8-9) True humility means trusting God's plan for your life, even when you don't understand or only have just enough light for one step at a time. God sees the big picture; put your focus on Him.
Y – Yearning to worship. "If my people, who are called by my name, will humble themselves and pray and seek my face and turn from their wicked ways, then I will hear from heaven, and I will forgive their sin and heal their land." (2 Chronicles 7:14) Whether you like it or not, God created you, He created the world, and He is worthy of worship. We live in a broken world, and it's only by putting our focus on Him that everything else comes in to perspective.
At first I questioned writing on the topic of humility, as Timothy Keller once said, "Humility is so shy. If you begin talking about it, it leaves." But in our pursuit to live Christian lives, it's important to remember the One Who so perfectly embodies true humility: "For even the Son of Man did not come to be served, but to serve, and to give His life as a ransom for many." (Mark 10:45) Christ wants to meet you where you have a need. Look to the One Who humbled Himself more than anyone else in history, yet at the same time exhibited more strength than we could ever imagine.
Originally published as "Humility." Minto Express, Independent Plus, Arthur Enterprise-News, Mount Forest Confederate. July 20, 2017: 7. Print. Web.