Hope Reflected: The Importance of Faithfulness, Even in the Little Things
Written by H, Posted in Christian Living, Published Work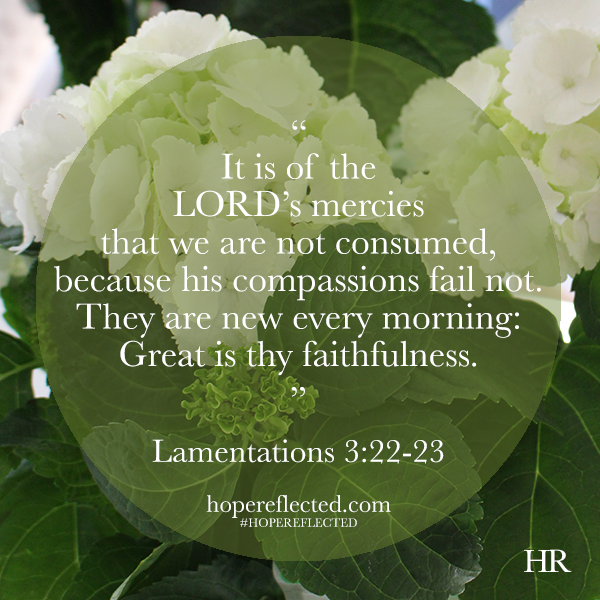 One of my favourite passages in the Bible is Lamentations 3:22-23, in which the author says, "It is of the LORD's mercies that we are not consumed, because his compassions fail not. They are new every morning: great is thy faithfulness."
God's faithfulness is great.
Whenever I read this passage or hear the classic Thomas Chisholm hymn, "Great is Thy faithfulness", I'm reminded of God's faithfulness. And I'm also reminded that we sometimes read those words or sing that hymn without truly taking in the meaning, and the value, of faithfulness.
According to the Oxford Dictionary, being "faithful" means to remain loyal and steadfast. To be loyal is to have "a strong feeling of support or allegiance", and to be steadfast is to be "resolutely or dutifully firm and unwavering". Those are words with impact, and faithfulness is an impacting virtue.
While faithfulness is important in every aspect of our lives, I can think of three areas where the virtue of faithfulness is especially significant: Relationally, professionally, and financially.
Faithfulness is a fundamental foundation in relationships. Hebrews 13:4 says that "Marriage is to be held in honor among all…" When we think about being faithful in a relationship, quite often the first thought is sexually. That's certainly an important key, however I think too often we don't place enough value on emotional faithfulness. Especially in today's society, it seems to be more commonplace for women and men to go outside the marriage to confide in female or male friends, or even co-workers. Adultery doesn't just refer to sexuality. Proverbs 6:32 says, "A man who commits adultery with a woman lacks wisdom, whoever does it destroys his own life." Men and women alike should protect the sanctity of their marriage covenant. Proverbs 31:11-12 says of the virtuous woman, "The heart of her husband doth safely trust in her so that he shall have no need of spoil."
Faithfulness is a fundamental foundation in your career. There's the old adage that says "find a job you love and you'll never work a day in your life." Maybe you don't have the benefit of being in a job that you "love", so perhaps you think your position doesn't matter. It does. Regardless of whether you're working in a job to make ends meet, or if you love your career choice, Colossians 3:23 instructs us, "And whatsoever ye do, do it heartily, as to the Lord, and not unto men…". Whether you love where you're at professionally or not, we should all be working for God's glory. You might say, "But what about my boss?!" Well, the Bible tell us in Romans 13:1, "For there is no power but of God: the powers that be are ordained of God." Whether politically or professionally, no authority is in place without God's plan being part of it. Rest in that, and do your best.
Faithfulness is a fundamental foundation in your finances. Finances are always a touchy subject. Everybody has his or her own opinion about how to deal with their finances. But what does the Bible say? The Bible has a lot to say about our finances. Psalm 37:21 tells us, "The wicked borrows but does not pay back, but the righteous is generous and gives…". As Christians, we are to be good stewards of all that God has blessed us with, and that means paying off debts as well as giving. Even as early as the book of Genesis (14:19-20), we are told that Abram tithed and gave the Lord a tenth of everything. In Proverbs 3:9-10 we are advised to "Honor the Lord with your wealth and the firstfruits of all your produce; then your barns will be filled with plenty, and your vats will be bursting with wine." My Grama always reminded me that when she was young and newly married, she and my Grampa never bought what they couldn't pay for upfront. It's a good reminder that if there is something you want, don't always be so quick to rely on your credit card. There's reward in purchasing items outright and not owing anything. We should be faithful in our finances.
Faithfulness is a virtue that can be developed prayerfully and with good habits. Proverbs 28:20 says "A faithful man shall abound with blessings…".
Originally published as "The Importance of Faithfulness, Even In the Little Things". Minto Express. April 6, 2016: 5. Print.