Hope Reflected | Jealousy
Written by H, Posted in Christian Living, Published Work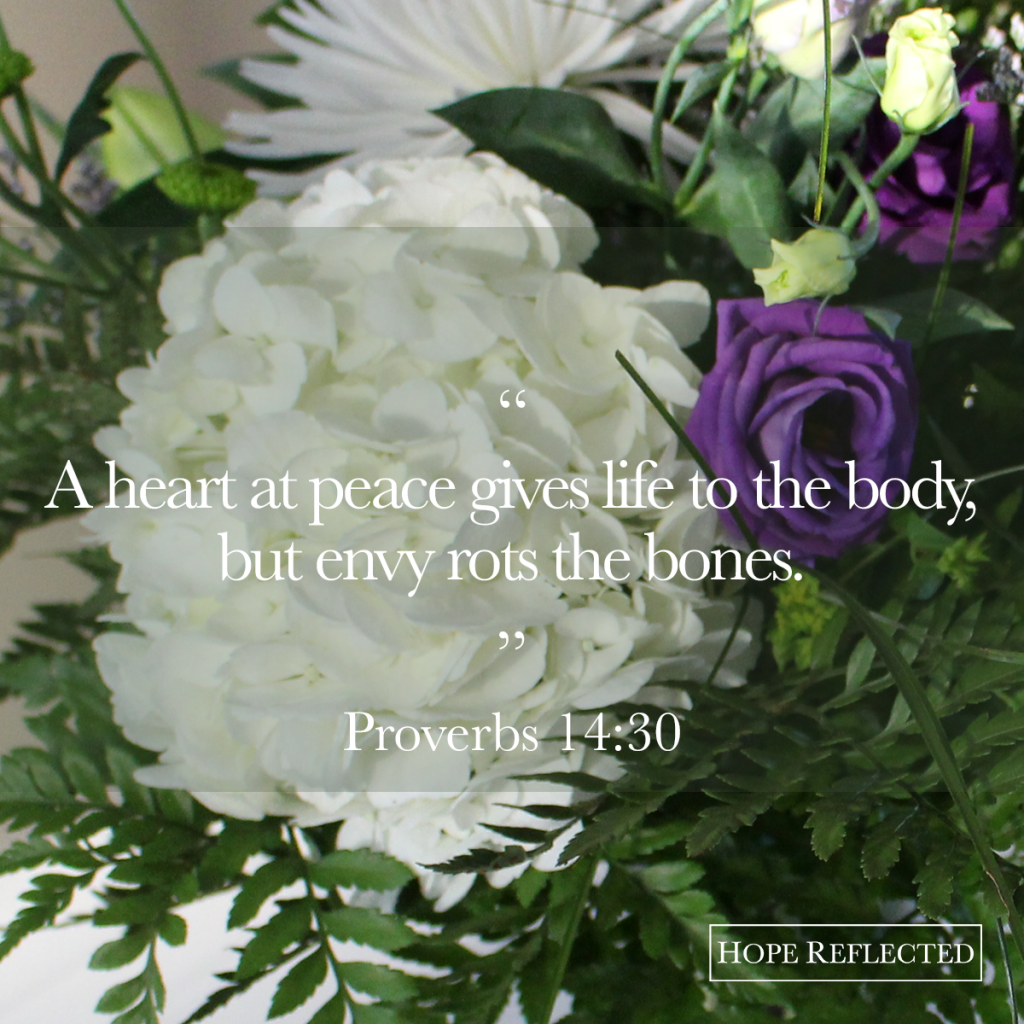 It was at the age of eight when I was gifted the Barbie Fold 'n Fun House, and that Barbie house was amazing. Three different rooms, a rooftop patio, a couch that turned into a bed, and 'outdoor' sitting area with a street light that actually worked; my Barbie collection was complete now that Barbie, Ken, and friends had a place to live. Or so I thought. Enter the Barbie Dreamhouse, gifted to one of my best friends. Not only did it have a rooftop patio, it also featured six rooms spread over two stories, a Jacuzzi tub, and a 'functioning' fireplace. It made my Barbie Fold 'n Fun House look more like a cottage. I would have loved to have that Barbie Dreamhouse as my own. It wasn't until I stopped comparing my Barbie accessories to my friend's that I actually started to appreciate and enjoy what I already had.
Jealousy. It happens to everyone at some point, and if you say it hasn't happened to you, you're lying. The key is that we shouldn't dwell on jealousy or let it consume us. That being said, there are two types of jealousy of which we should be aware. There's a rightful jealousy (that occurs when you have ownership of something that you're trying to guard or protect), and there is an unhealthy, sinful jealousy (that occurs when we covet something we don't have that belongs to someone else).
The Bible talks about both types of jealousy. You've likely read in the book of Exodus where God is described as a jealous God. That's not a bad thing! You see, we belong to God. He created us, and when we take our focus off Him and put it on ourselves and on earthly things, that's not right. God has a right to command our full attention, because we belong to Him. Interestingly, when we take our focus off Christ, that's when we are at the greatest risk of going astray and falling away. Enter the bad type of jealousy (among other sins). Alternatively, when we keep our focus on God, and desire to do His will and live for Him, God wants nothing more than to see us happy, living in love and enjoying Him (the exact opposite of jealousy).
How do you guard yourself or catch yourself when you're jealous? An important thing is to take the focus off yourself. We tend to get jealous or envious when we focus too much on what we have – or don't have. Comparison to others is a dangerous game, and you won't win. You'll either come away with a false sense of pride, or you'll feel inadequate.
Admit jealousy for what it is. "You are still wordly. For since there is jealousy and quarreling among you, are you not worldly? Are you not acting like mere humans? (1 Corinthians 3:3) Each of us is human, and none of us is above jealousy or envy, but that doesn't make it OK. Jealousy is wrong, and the first step to overcoming your jealousy is admitting it.
Put your focus in the right place. "Set your mind on things above, not on things on the earth." (Colossians 3:2) We tend to get caught up in jealousy when our focus isn't in the right place. As Christians, we're called to act with love, and love's attributes do not include jealousy (1 Corinthians 13:4). When we put our focus on the Lord, He'll help us put things in perspective. (Psalm 37:1, 3).
Choose contentment over comparison. "A heart at peace gives life to the body, but envy rots the bones." (Proverbs 14:30) You've likely heard the adage, "Comparison is the thief of joy," and there is great truth in these words. When we start comparing ourselves to others and going through all the haves and have-nots, there's not doubt we'll get jealous. It's important to remember that God makes no mistakes. When we let jealousy take control, we're essentially saying that God makes mistakes and that His gifts aren't enough. When we choose contentment, however, we're resting in God's grace and His goodness.
Don't let your coffee get cold because you're so busy looking at someone else's mug. Make the conscious choice to count your blessings, and remember the Lord "who satisfies your mouth with good things, so that your youth is renewed like the eagle's." (Psalm 103:5)
Originally published as "Jealousy." Minto Express, Independent Plus, Arthur Enterprise-News, Mount Forest Confederate. February 16, 2017: 7. Print.