Monday Encouragement: Deuteronomy 4:29
Written by H, Posted in Christian Living, Encouragement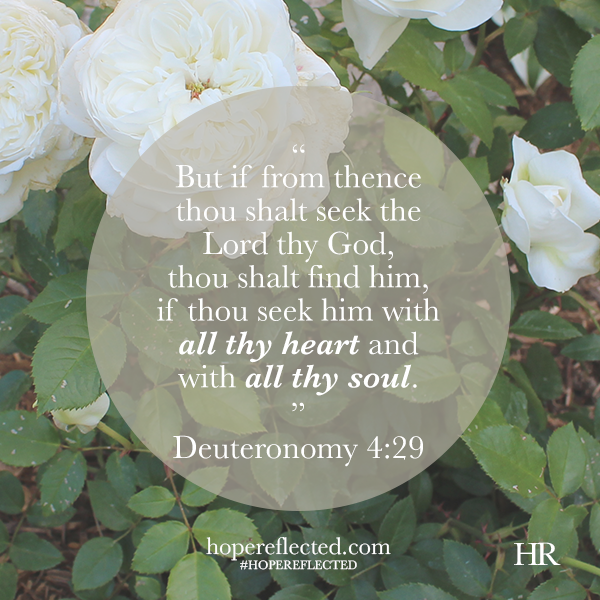 "But if from thence thou shalt seek the Lord thy God, thou shalt find him, if thou seek him with all thy heart and with all thy soul." Deuteronomy 4:29
Last Sunday in church, both Wes and I were struck by the speaker's simple yet profound sermon about surrendering complete control to God.
It seems like such an easy thing, doesn't it? Or at least easy to say?
God is in complete control.
Acknowledging that God is in complete control is the first step to contentment.
But living it,—acknowledging that in each of our lives, we will only ever be completely content after we acknowledge that God is in control,—living it is a completely different thing.
We think if we pray harder, or differently, if we do certain things, or speak in a particular manner, that God will somehow be more apt to hear our prayers.
And that's just not true.
The truth is, that it's when we really seek Him with our whole hearts,—all our hearts,—and our whole souls, —all our souls,— that we will truly find God and He will find us.
Sometimes, all the time, all we need to do, is surrender.
No ritualistic prayers, no special speech, just ultimate surrender. "God, you are the One Who is in complete control."
"But if from thence thou shalt seek the Lord thy God, thou shalt find him, if thou seek him with all thy heart and with all thy soul." Deuteronomy 4:29