Wednesday Wisdom: God Will Help You Find a Way
Written by H, Posted in Christian Living, Wednesday Wisdom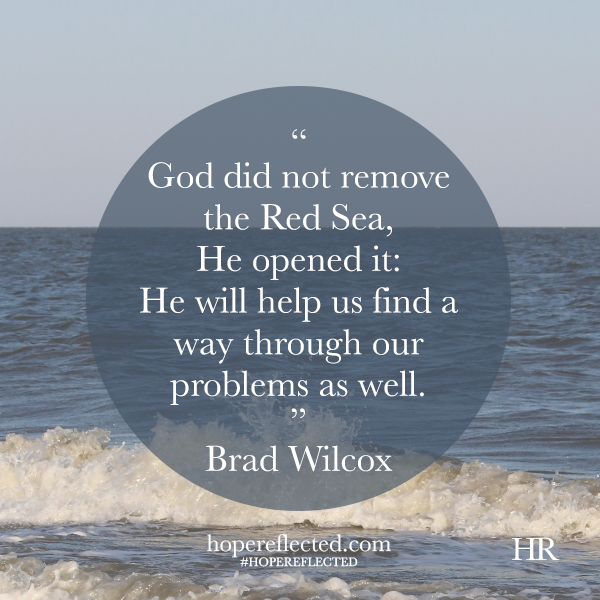 "God did not remove the Red Sea, He opened it: He will help us find a way through our problems as well." Brad Wilcox
How many times have we read in Exodus how God parted the Red Sea for Moses, allowing the Israelites to walk on dry ground and cross to safety while being pursued by their enemies? We've heard the event shared time after time after time; this is classic Sunday School lesson material.
Exodus 14:21-22 (KJV) tells us, "And Moses stretched out his hand over the sea; and the LORD caused the sea to go back by a strong east wind all that night, and made the sea dry land, and the waters were divided. And the children of Israel went into the midst of the sea upon the dry ground: and the waters were a wall unto them on their right hand, and on their left."
Notice anything interesting about this selection of scripture? It wasn't until I came across author Brad Wilcox's awesome quote that the truth struck me: God divided the waters of the Red Sea for the Israelites so they could cross to safety.
"God did not remove the Red Sea, He opened it: He will help us find a way through our problems as well." Brad Wilcox
Wow.
Sometimes we can hear a truth over and over again, but until it's explained in the simplest of terms, we don't necessarily understand the breadth of it.
God's not necessarily going to remove our problems, but He has promised to help us through whatever challenges we're facing.
David testified in Psalm 23:4, "Yea, though I walk through the valley of the shadow of death, I will fear no evil: for thou art with me; thy rod and thy staff they comfort me."
Psalm 46:1 tells us, "God is our refuge and strength, a very present help in trouble."
Isaiah 41:10 instructs us, "Fear thou not; for I am with thee: be not dismayed; for I am thy God: I will strengthen thee; yea, I will help thee; yea, I will uphold thee with the right hand of my righteousness."
In Matthew 11:28-30, Jesus promises us, "Come unto me, all ye that labour and are heavy laden, and I will give you rest. Take my yoke upon you, and learn of me; for I am meek and lowly in heart: and ye shall find rest unto your souls. For my yoke is easy, and my burden is light."
God is with us, always, if we trust in Him. God is our refuge, and our strength. God will give you the strength to get through whatever challenge or problem you are facing, if you will trust in Him. God is the one who will provide us with rest. Seek Him, learn about Him, trust Him.
We don't need to fear problems or eliminate them when we have the choice to face them with God on our side.
"God did not remove the Red Sea, He opened it: He will help us find a way through our problems as well." Brad Wilcox
Trust God, and let Him help you today!