Monday Encouragement: Philippians 1:6
Written by H, Posted in Christian Living, Wednesday Wisdom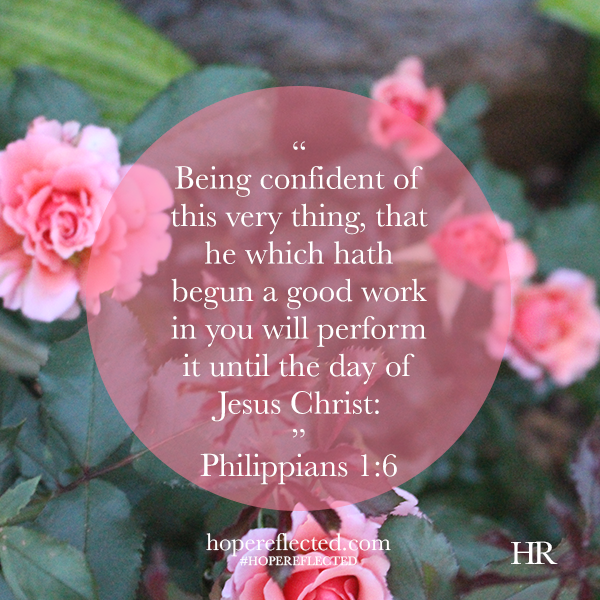 "Being confident of this very thing, that he which hath begun a good work in you will perform it until the day of Jesus Christ:" Philippians 1:6
Paul wrote the book (or letter) of Philippians while he was in prison. The 11th book in the New Testament, Philippians has long been one of my favourite books of the Bible, because joy,—among other fruits of the Spirit,— is the main theme of the epistle.
Philippians is a book filled with encouragement, gratitude, and rejoicing.
No matter where this week finds you, if you trust in God, you can find encouragement in Philippians 1:6. Here are just a few reasons why:
"He which hath begun a good work in you…" God started the work in you. It was nothing you did. God is the One working in each of us. It's nothing that any of us can do.
"…will perform it…" God will carry the work that He started in each one of us to completion. He will perfect the work that He has started in each one of us.
"…until the day of Jesus Chrsit:" The day of the Lord; this is the day when God's glory will be revealed to His people. This is a great reminder and encouragement to each of us to persevere, to keep on, because God started the work in us, and He will finish it. He is the great Designer and has promised eternal life to all those who trust in Him.
"Being confident of this very thing, that he which hath begun a good work in you will perform it until the day of Jesus Christ:" Philippians 1:6