Hope Reflected: The Importance of Perspective
Written by H, Posted in Christian Living, Published Work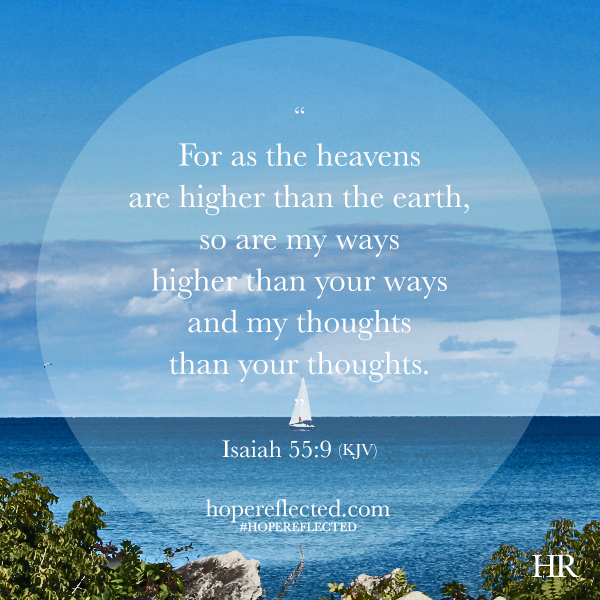 Have you ever watched the movie Honey, I Shrunk the Kids, and thought how huge Antie the ant appeared to be? Have you ever experienced flying in an airplane on a clear day, and looking out the window only to observe how minute the homes and buildings seem below, and how the vehicles cruising the freeway are just little specks? Or have you ever felt so bad for yourself and something that's happened (or not happened) that when you hear the life struggles of another and see the news of unrest overseas, your problems suddenly seem so small in comparison?
Perspective.
Defined in the dictionary as "the art of drawing solid objects on a two-dimensional surface so as to give the right impression of their height, width, depth, and position in relation to each other when viewed from a particular point." Also, "a particular attitude toward or way of regarding something; a point view."
What we get out of life depends a lot on our perspective.
Three ways proper perspective positively affects our lives:
Proper perspective provides clarity. Ever notice when you're trying to solve a problem or figure out what to do in a situation, that when you take your focus off said problem or situation for a while and come back to it, that the resolution becomes more clear? That's what perspective does. It helps us adjust our focus and see things from the bigger picture. Paul says in 2 Corinthians 4:17-18 (NKJV), "For our light affliction, which is but for a moment, is working for us a far more exceeding and eternal weight of glory, while we do not look at the things which are seen, but at the things which are not seen. For the things which are seen are temporary, but the things which are not seen are eternal."
Proper perspective produces gratitude. Sometimes we can get so caught up in the events of our own lives, that we lose sight of what's really important, or we place too much emphasis or value on our own circumstances. What's the old saying that if we all put our problems in a pile, we'd opt to pull our own problem right back out again? There's always someone struggling with something more severe. That shouldn't be a comfort to us, but it should help us develop more of an attitude of gratitude for what we do have in our lives. Colossians 4:2 (KJV) says that we should "continue in prayer, and watch in the same with thanksgiving".
Proper perspective prepares us to help others. Oftentimes we will find that by recognizing the pettiness of our own 'problems', we'll be better equipped to be an encouragement to others. It's the idea of looking out rather than in. James Keller once said, "A candle loses nothing by lighting another candle." It doesn't take much effort to provide a word of encouragement or even a simple smile. We're challenged in Colossians 3:12 (NIV) to "clothe yourselves with compassion, kindness, humility, gentleness, and patience."
It's not always easy to have the proper perspective, especially when life is moving at warp speed and we feel like there's never a moment to just stop and breathe. It's like the adage, "you can't see the forest for the trees." Isaiah 55:8-9 (KJV) says, "'For my thoughts are not your thoughts, neither are your ways my ways,' saith the LORD. 'For as the heavens are higher than the earth, so are my ways higher than your ways, and my thoughts than your thoughts.'" Proper perspective will help us see the whole picture and how God is working every single circumstance in each of our lives for a greater purpose.