Pride
Written by H, Posted in Christian Living, Published Work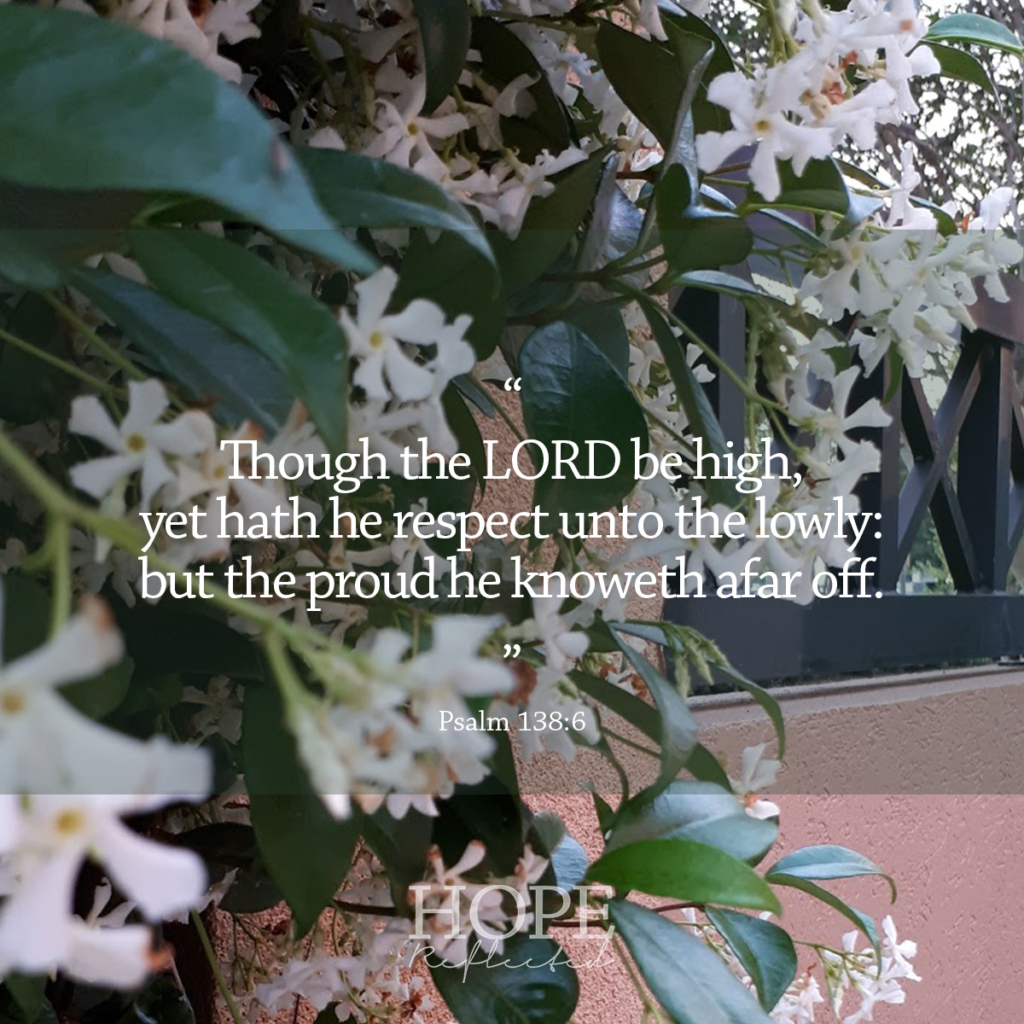 Beware the great destroyer
One of the ways that pride destroys our lives is by pulling us away from the Lord. When we get puffed up with self-empowerment, we push God away. Have you ever noticed that during those times when you're always right and up on your soapbox, you can't hear God? David wrote in Psalm 138:6, "Though the LORD be high, yet hath he respect unto the lowly: but the proud he knoweth afar off." Whenever it feels like God can't hear us, or as though He's being distant, we should question, is it Him, or is it me? We may be surprised at the answer, after all God knows the proud from afar but "he forgetteth not the cry of the humble." (Psalm 9:12)
"Though the LORD be high, yet hath he respect unto the lowly: but the proud he knoweth afar off."

Psalm 138:6
If we are growing in relationship with God, then we are dying to self so that we can live for Him. If God comes first in our lives, that doesn't leave any room for pride. "I have set the LORD always before me:" David wrote in Psalm 16:8, "because he is at my right hand, I shall not be moved." David didn't set himself first, he put the Lord first. When we put the Lord first, He is our confidence! That we no longer need to be self-reliant should be such a relief to us.
At the root of the struggle
Beware the great destroyer. For many, pride is holding them back; it is at the root of their struggle to accept Christ as Saviour. To experience true salvation, we have to admit things that pride – read, sin – doesn't want us to confess. Who wants to be honest and confess that they're a sinner? No takers? Who wants to admit that they need help? Who wants to get down on their knees and acknowledge that nothing that they do is going to get them into Heaven? Pride, – one of Satan's weapons of choice, the great destroyer, – doesn't want any of us to do that.
We can't earn our salvation
Pride is that false confidence that convinces us that we can earn our salvation. "I go to church," "I take communion," "I do good things," "I'm kind to others," "I give money," "I volunteer," – "I" is at the very centre of sin and pride, quite literally. No amount of money or good deeds is going to get us into Heaven. Nothing but confessing our sin and acknowledging Christ as our Saviour can open that door. Is pride holding you back?
"Wherefore let him that thinketh he standeth take heed lest he fall."

1 Corinthians 10:12
Another way pride destroys our lives is by puffing us up only to shamefully deflate us. "Wherefore let him that thinketh he standeth take heed lest he fall." (1 Corinthians 10:12) We know that God hates it, and yet so often we allow pride to make fools out of us. "The way of a fool is right in his own eyes," (Proverbs 12:15). C.S. Lewis called pride "the chief of all misery… Without pride there is no offense. Pride is what made the devil the devil." We should not give place to pride, as Lewis said, "For pride is spiritual cancer: it eats up the very possibility of love, or contentment, or even common sense."
You can read more about pride here.
Originally published as "Pride" Independent Plus. February 21, 2020: 6. Print. Web.