Wednesday Wisdom: Guard Your Heart, Mind, and Tongue
Written by H, Posted in Christian Living, Wednesday Wisdom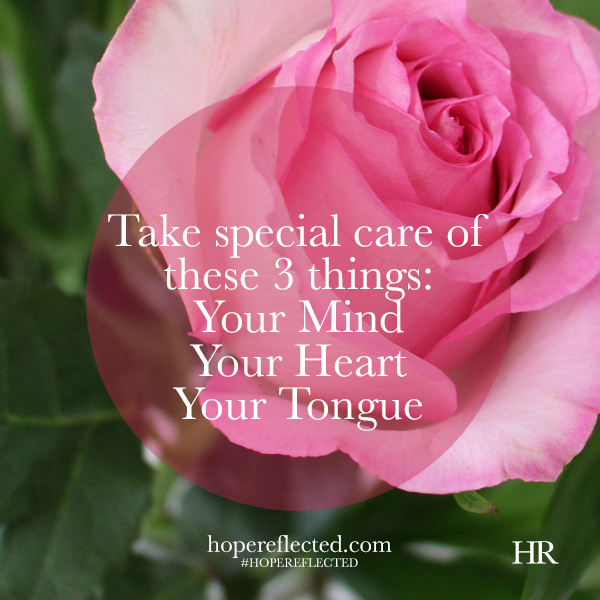 We've all been there; at least once a week, I something I shouldn't say and then afterwards lament about it. Our words are incredibly powerful, and once we say them, we can't take them back. Before we speak, we have to consider and be conscious of what we're taking into our minds and hearts.
Here are 3 verses each about remembering to guard your heart, mind, and tongue:
Guard Your Heart
Proverbs 3:5 "Trust in the Lord with all thine heart; and lean not unto thine own understanding."
Proverbs 4:23 "Keep thy heart with all diligence; for out of it are the issues of life."
Luke 6:45 "A good man out of the good treasure of his heart bringeth forth that which is good; and an evil man out of the evil treasure of his heart bringeth forth that which is evil: for of the abundance of the heart his mouth speaketh."
For more verses about the importance of guarding your heart, see also Psalm 51:10, Jeremiah 17:9, Philippians 4:6-7, and 1 John 3:20.
Guard Your Mind
2 Corinthians 10:5 "Casting down imaginations, and every high thing that exalteth itself against the knowledge of God, and bringing into captivity every thought to the obedience of Christ;"
1 Peter 1:13 "Wherefore gird up the loins of your mind, be sober, and hope to the end for the grace that is to be brought unto you at the revelation of Jesus Christ;"
Philippians 4:8 "Finally, brethren, whatsoever things are true, whatsoever things are honest, whatsoever things are just, whatsoever things are pure, whatsoever things are lovely, whatsoever things are of good report; if there be any virtue, and if there be any praise, think on these things."
For more verses about guarding your thoughts and your mind, see also Psalm 101:3, Proverbs 4:25, Romans 12:2.
Guard Your Tongue
Proverbs 13:3 "He that keepeth his mouth keepeth his life: but he that openeth wide his lips shall have destruction."
Proverbs 18:21 "Death and life are in the power of the tongue; and they that love it shall eat the fruit thereof."
Proverbs 21:23 "Whoso keepeth his mouth and his tongue keepeth his soul from troubles."
For more verses on the importance of guarding your tongue, see also Proverbs 15:4, Proverbs 17:28, Matthew 12:36, and Ephesians 4:29.