Wednesday Wisdom | The Sovereignty of God
Written by H, Posted in Christian Living, Wednesday Wisdom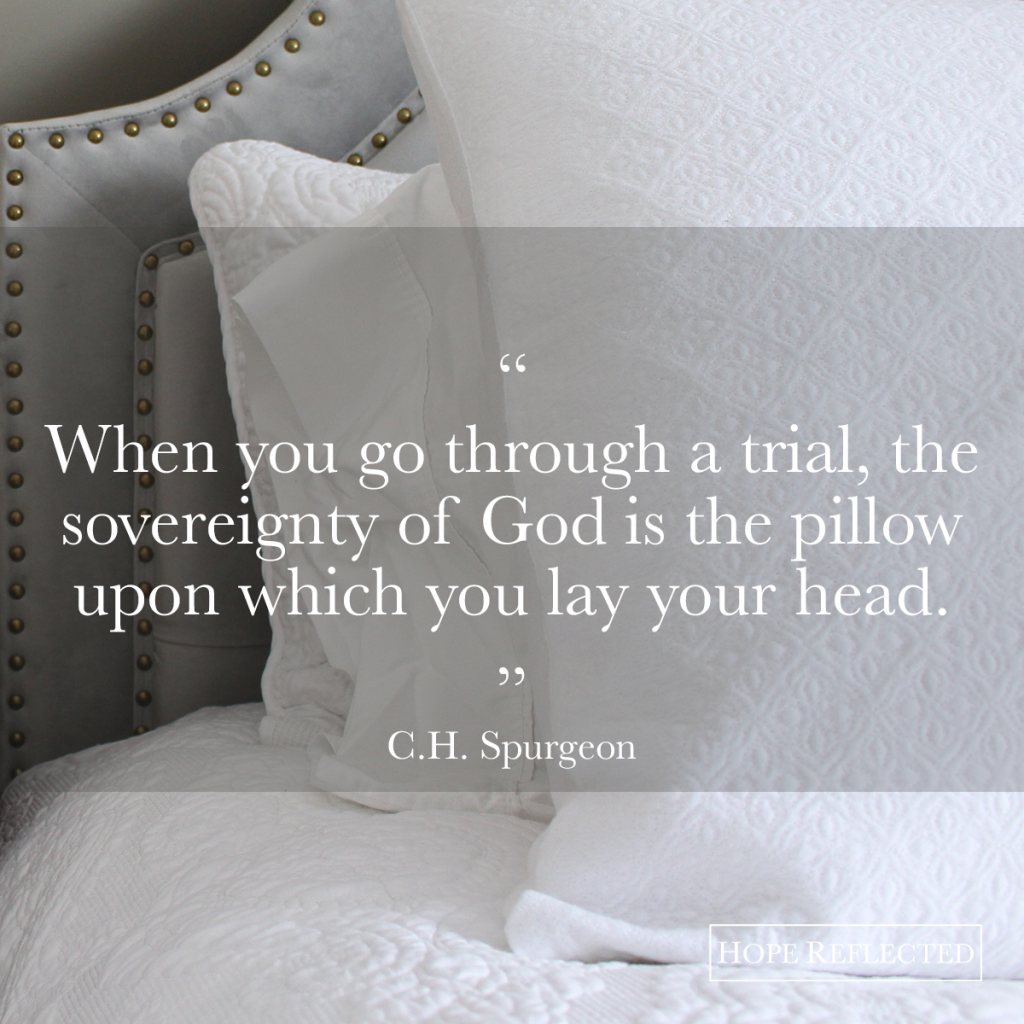 "When you go through a trial, the sovereignty of God is the pillow upon which you lay your head." C.H. Spurgeon
When you're going through a trial, how well do you sleep at night?
When you're trusting the sovereignty of God, you've got the most comfortable, reassuring pillow there is.
Sure, it's easier to say than to do, but there are seemingly endless verses throughout the Bible about trusting God and His sovereignty. So what are you waiting for?
No matter what you're facing, claim God's sovereignty to get you through it. Don't forget that He is in control — and that can be a real challenge at times, can't it?!
In times of trials, focus on the Bible verses (or better yet, commit them to memory!) that remind you of God's strength, His power, His care, and His sovereignty:
Cast all your anxiety on Him, because He cares for you. (1 Peter 5:7)
Bless those who curse you, do good to those who hate you, and pray for those who despitefully use you. (Matthew 5:44)
And we know that all things work together for good to those who love God, to those who are the called according to His purpose. (Romans 8:28)
Let not your heart be troubled, neither let it be afraid. (John 14:27)
The LORD is my strength and my song, and he has become my salvation; this is my God, and I will praise him, my father's God, and I will exalt him. (Exodus 15:2)
Seek the LORD and his strength; seek his presence continually! (1 Chronicles 16:11)
Fear not, for I am with you; be not dismayed, for I am your God; I will strengthen you, I will help you, I will uphold you with my righteous right hand. (Isaiah 41:10)
I can do all things through Christ which strengthens me. (Philippians 4:13)
…God who equipped me with strength and made my way blameless. He made my feet like the feet of a deer and set me secure on the heights. (Psalm 18:32-33)
But the Lord stood by me and strengthened me. (2 Timothy 4:17)
Rest in the LORD and wait patiently for Him. Do not fret because of him who prospers in his way, because of the man who brings wicked schemes to pass. (Psalm 37:7)
Be strong and of a good courage. Do not be frightened, neither be dismayed, for the LORD your God is with you wherever you go. (Joshua 1:9)
Remember, when you go through a trial, God's sovereignty will be your rest. Keep your eyes on Him!
"When you go through a trial, the sovereignty of God is the pillow upon which you lay your head." C.H. Spurgeon