Be Bold
Written by H, Posted in Christian Living, Published Work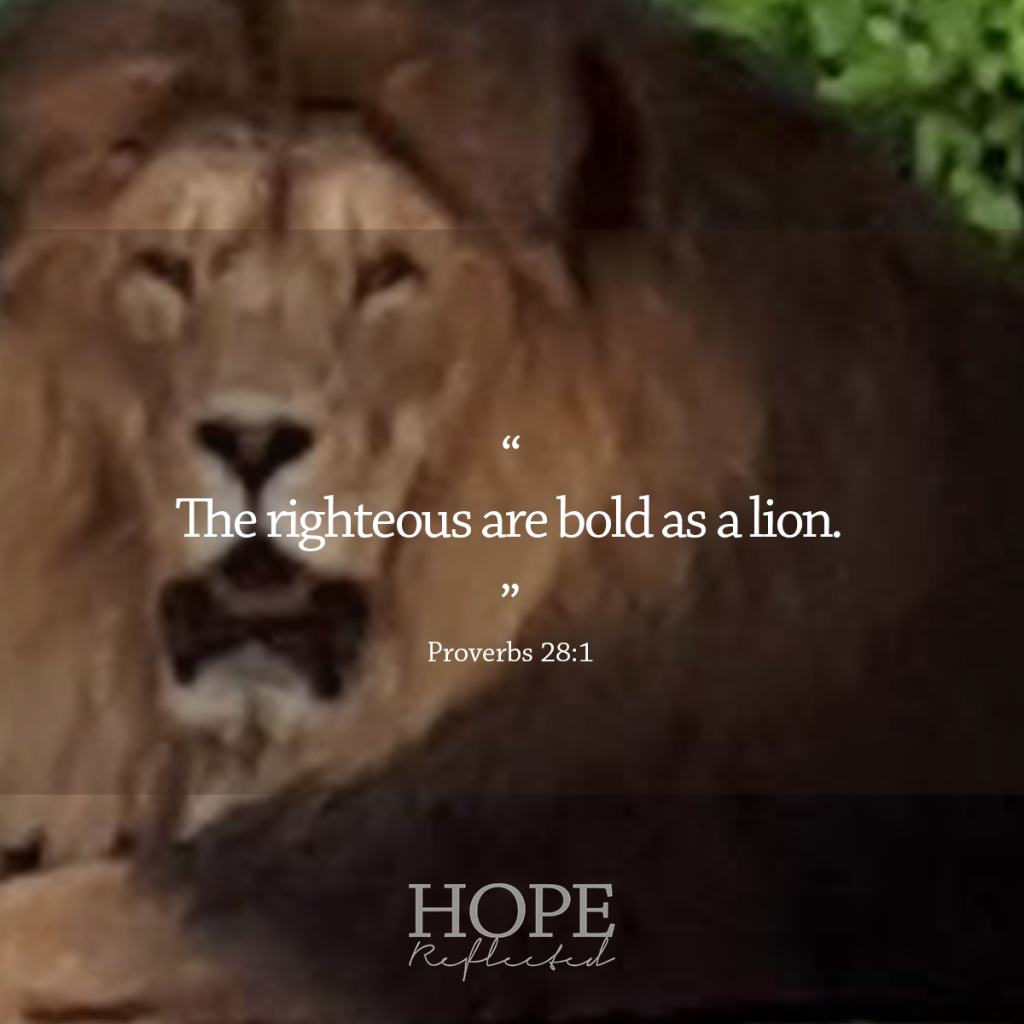 We can be bold because our confidence rests in the Creator
"The righteous are bold as a lion." (Proverbs 28:1) Today, boldness is not often a characteristic that is associated with Christians, however it is a trait that each of us should have. While it's certainly not the popular thing to stand up for Biblical truth and Christian values, that is exactly what we are called to do. How can we put on the whole armour of God if we aren't being bold? To be bold – in the Biblical sense – doesn't mean to be proud or full of yourself; to be bold is to be strong, to be courageous, to stand up for the truth, and to go forward in confidence. A.W. Tozer once said that, "Christians should be the boldest people in the world; not cocky and sure of ourselves, but sure of Him."
Meekness means being bold
Our Lord and Saviour Jesus Christ was certainly bold, and we also read throughout the New Testament that Jesus was meek. To be bold requires us to be meek. Often confused with weakness – perhaps because the two words rhyme? – meekness is actually the opposite of weakness. Meekness was one of Christ's attributes. "For I am meek and lowly in heart," He said in Matthew 11:29. To be meek is to be humble, to be true, and to be assured but not arrogant. As 2 Timothy 2:25 instructs us, we are to instruct those that oppose us "in meekness". Meekness doesn't mean being confrontational, but it does mean being bold.
Because of Christ, we can and should be bold
To be bold also requires us to know what we believe and why, and to "be ready always to give an answer to every man that asketh you a reason of the hope that is in you." (1 Peter 3:15). We can live boldly when we have a solid understanding of God's Word. Christ said in John 15:7, "If ye abide in me, and my words abide in you, ye shall ask what ye will, and it shall be done unto you." We can only have that boldness when we have God's Word in our heart. Studying the Scriptures and memorizing Bible verses are two excellent ways to grow in your faith and to gain a deeper understanding – and appreciation for – God's Word. In 2 Timothy 2:15, we understand that we are to "study to show thyself approved unto God, a workman that needeth not to be ashamed, rightly dividing the word of truth."
We need not to be ashamed of our faith; we need to be bold. When you're feeling timid, consider this: We can be bold because our confidence rests in the Creator of the universe. We are created in His image (Genesis 1:27). We have the privilege of going to God at any time, regardless of where we are or what's going on around us. In fact, Christ invites us to cast all our cares at His feet! Because of Him, we can and should be bold. "Let us therefore come boldly unto the throne of grace, that we may obtain mercy, and find grace to help in time of need." (Hebrews 4:16)
Originally published as "Be Bold." Minto Express, Independent Plus, Arthur Enterprise-News, Mount Forest Confederate, Walkerton Herald-Times. February 14, 2019: 6. Print. Web.