Hope's How-To: Build a Robin's Nest – Part 4 – Robin Fledglings
Written by H, Posted in Christian Living, Gardening, Hope's How-To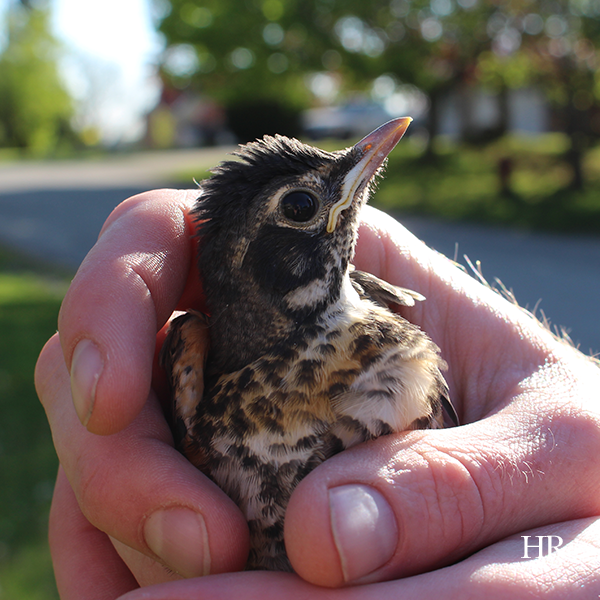 This happened several weeks ago, however lately our lives have been in a constant state of motion, so I've not had time to post a robin update until now. The baby robins flew the coup (quite literally)! All four of our baby robin fledglings have left the nest and set out on their journey through… our yard.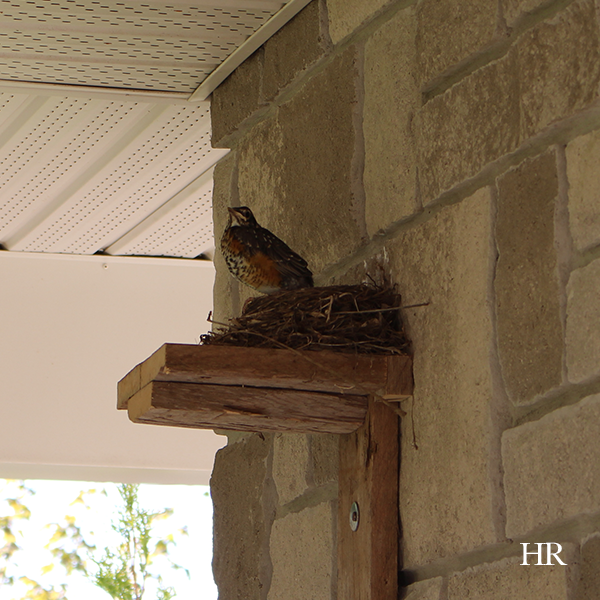 Wes and I came home from church a few weeks ago, and I wanted to check on the baby robin fledglings in the nest. As the robins had been living right on our patio by our living area, it was easy to sit out and observe their growth, feedings,  and daily habits. Wes had encouraged me since the robin eggs hatched to keep my distance, and of course this particular Sunday in May I just had to get out there to see them.
Obviously the little guys were developed to the point that they were actually crowding the nest, however when I came out to see them, without being too close, they all fledged from the nest.
At first, I panicked. Wes ran around the yard and rounded them up to put back in the nest (see photo above), however it was clear; the baby robin fledglings were ready to embark on their adventure away from the nest.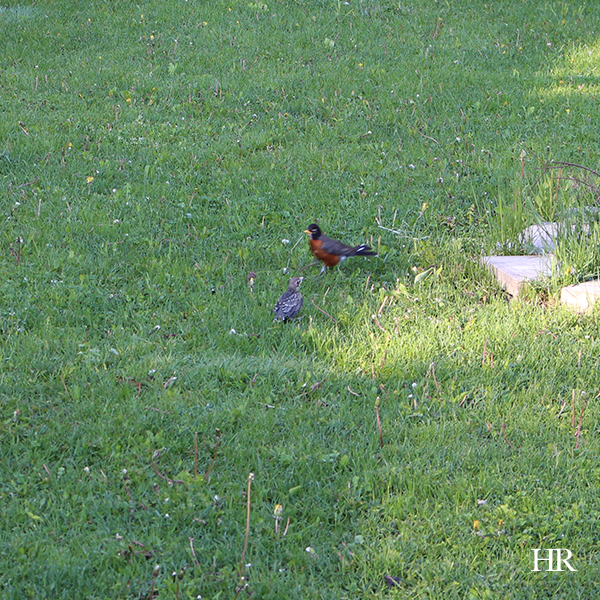 Over the past few weeks, a common sight in our yard has been Mama Robin bouncing and flying around the yard, with her young not far behind. While the robin fledglings have grown so much since the time of these photos almost a month ago, what remains of the family still calls our yard and trees home.
Unfortunately, we did lose one of the three robin fledglings — we aren't sure if a cat got the robin, or the cold — however, three of the young survived (to our knowledge).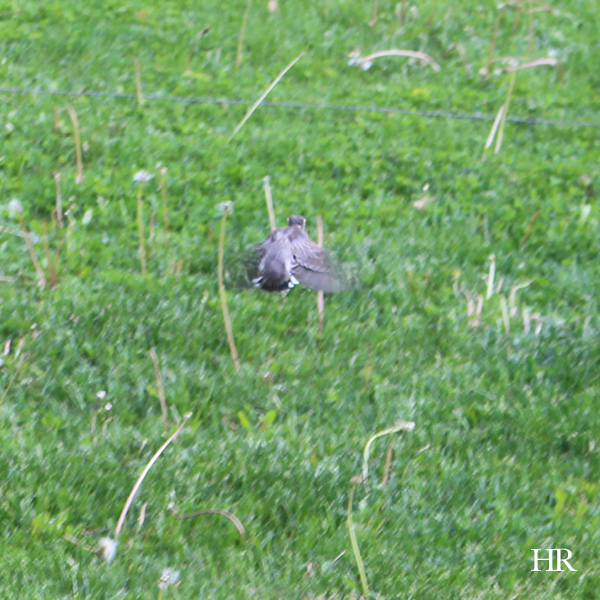 While many of our friends and family still have robin fledglings in the nest, our robins have flown the coup! Before they were developed, it was so funny to watch them try to take flight with small wings and no tail. Clearly they've grown in the last few weeks, and we'll try to capture more photos as we go.
Watching the baby robin fledglings in our yard has certainly been an education; when they're young, robins are defenceless. They're yet to learn how to fly (we were blessed enough to watch them practice in our yard), they're dependant on their parents (Dad brings the young to the robin roost at night, while Mama Robin feeds the fledglings by day), and they're testing their vocal chords (hearing robin fledglings start to exercise their vocal chords is one of the most adorable sounds).
Hint to those who've built a robin's nesting shelf: When your first "family" leaves the nest, be sure to dispose of the robin's nest, clean and spray off the area. Once abandoned for their real world adventure, robins don't return to the nest where they were birthed. The old nest can attract lice and mites, so it's best practice to dispose of it once the robins leave the nest for good.