Hope Reflected: 3 Facts About Prayer
Written by H, Posted in Christian Living, Published Work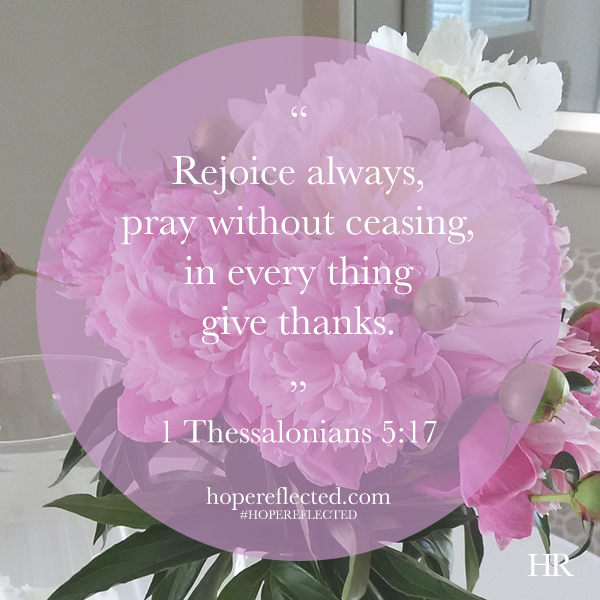 When I was very young, one of the Bible clubs I belonged to had to memorize a series of verses, one of which was 1 Thessalonians 5:17, which says, "Pray without ceasing." You can imagine this short verse quickly became a group favourite, as it was the easiest to commit to memory (second only to John 11:35).
Ironically, and certainly not intentionally, years later this verse still sticks with me, and has a tendency to bubble to the surface especially around times when big decisions need to made and when I, or people around me, need help.
How is it possible that three seemingly small words, when stuck together and committed to memory, could reverberate so deeply in one's soul?
1 Thessalonians 5:17 is sandwiched between two other important instructions in verses 16 and 18. The whole passage reads like this: "Rejoice always, pray without ceasing, in everything give thanks; for this is the will of God in Christ Jesus for you." [NKJV] Not sure about you, but sometimes it's a struggle to rejoice always, and I constantly need to remind myself to practice an attitude of gratitude. And when it comes to the three words in between, admittedly, I'm not sure I fully comprehend what it is to pray without ceasing. What I do understand, however, is that when I pray, I'm more in tune with myself and those around me, and I can't help but think that's mostly due to the fact that when our spirit is in tune with God, it gives greater clarity to our earthly circumstances and relationships.
Here are three facts I know about prayer:
Prayer provides peace. Even if you don't where to start or you don't have all the words, prayer can provide a peace that you won't find in anything else. In his letter to the Philippians, the apostle Paul wrote in chapter 4 and verse 6, "be anxious for nothing, but in everything by prayer and supplication, with thanksgiving, let your requests be made known to God." [NKJV] Then in verse 7 he says, "and the peace of God, which surpasses all understanding, will guard your hearts and minds through Christ Jesus." Now read that again.
Prayer provides perception. More often than not, when people pray, it's because we don't have all the answers, and we can't see what's on the next step or around the corner. The comforting thing is that we don't have to. The author of Psalm 119 wrote, "Thy word is a lamp unto my feet, and a light unto my path." Anyone who's been camping knows that an outdoor lamp or flashlight doesn't provide a whole lot of light, just enough to get you along the trail. And that's enough. Have faith, and don't second-guess yourself. "If any of you lack wisdom, let him ask of God, that giveth to all men liberally, and upbraideth not; and it shall be given him. But let him ask in faith, nothing wavering. For he that wavereth is like a wave of the sea drive with the wind and tossed." (James 1:5-6)
Prayer provides power: Over worry, anxiety, fear, fretting – you name it, when we pray, we give God the power and acknowledge that the answers are not in ourselves. What's worrying going to accomplish, anyway? I jest, because I'm a carrier, and a thinker, and a woman (and we tend to over-analyze and look at things from every single angle, multiple times, and then all over again). But seriously. James 5:16 says, "The effective, fervent prayer of a righteous man avails much." Let go, let God, and the second you start fretting, remember, He's got this.
"Is prayer your steering wheel or your spare tire?" Corrie Ten Boom once asked. "Any concern too small to be turned into prayer is too small to be made into a burden." Our prayers don't need all the words, and they don't have to be impressive; all they require is an honest and open heart before God.
Originally published as "3 Facts About Prayer". Minto Express. July 29, 2015. 5. Print.